Unloved Antiques: Bone China Tea Cup & Saucer Collection

by Mike Wilcox (04/23/12).
The next item in this series of Unloved Antiques is something that most people have, often inherited from moms, great aunts and grandmothers. Today's topic? Mid-20th-century bone china teacups. These were often a favorite gift given to the matriarchs of our lives—I know I gave my mother one every year for quite a long time. As I recall, they were used once or twice and then went straight into the china display cabinet. Based on the years I've spent in the antiques business, I'm pretty sure this was standard protocol with these fancy teacups, as most estates I've been called to appraise had china cabinets jammed with English bone china teacups (and matching saucers), most of them seldom dating earlier than the late 1940s.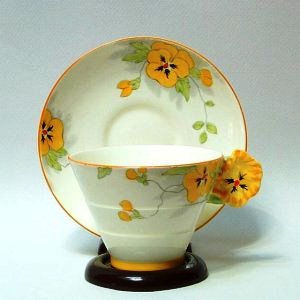 Why such value has been attached to these iconic gifts is probably the fact that they appear to be unique, as Mom/Great Aunt Edna/Grandma only had one of them and not a set. It might also be the "Bone China"* marking found on many just being unfamiliar enough and sounding odd enough to make one think of rarity. While often highly decorative and seemingly unique when viewed on their own, these teacups were mass produced items, pumped out for the eager North American export market by English potters such as Adams, Paragon, Anlsley, Royal Stafford, Royal Albert and scores of others. With some exceptions, the vast majority of these bone china teacups and saucers produced by these companies often sell for less than $25 apiece at auction.
As is always the case, it is certainly worthwhile to use something like our Ask a Worthologist service or Worthopedia price guide if you have an exception example and not one of the more common bone china teacups. Some exceptions, as can be seen to the right, are generally examples with unusual features, such as the flower handle teacups by Paragon, Shelly's Chintz patterns and Royal Crown Derby's Imari pattern teacups. Some, like the Paragon flower handle cups, can retail for close to $300, several Chintz patterns for more than $100 and Royal Crown Derby's Imari cups and saucers also sell for close to $100 each.
———————————
* "Bone China" was developed by English potter Josiah Spode. It is a type of porcelain that is composed of feldspathic material and kaolin or bone ash. It generally containing a minimum of 30 percent phosphate derived from animal bone and calculated calcium phosphate. It is a very durable form of porcelain noted for its whiteness, high mechanical strength and chip resistance.
———————————
Previous "Unloved Antiques" articles:
• Unloved Antiques: 'Limited Edition' Collectors Plates
• Unloved Antiques: Singer Sewing Machines
• Unloved Antiques: Decorator Prints
• Unloved Antiques: Commemorative Whiskey Decanters
• Unloved Antiques: 'Bronze' Flatware
• Unloved Antiques: 1847 Rogers Brothers Flatware
• Unloved Antiques: Hummel Knockoffs
• Unloved Antiques: National Geographic Magazines
• Unloved Antiques: Dragonware
• Unloved Antiques: 19th Century Religious Prints
• Unloved Antiques: Depression Glass
• Unloved Antiques: Stradivarius-Style Violins
• Unloved Antiques: 19th-Century Pump Organs
• Unloved Antiques: 'Starving Artist' Painting
• Unloved Antiques: The American Old Family Bible
• Unloved Antiques: That Stack of Old Books
• Unloved Antiques: 20th Century Wedgwood Jasperware
Mike Wilcox, of Wilcox & Hall Appraisers, is a Worthologist who specializes in Art Nouveau and the Arts and Craft movement.
———————————
WorthPoint—Discover Your Hidden Wealth