Rare Garfield Appointment Signature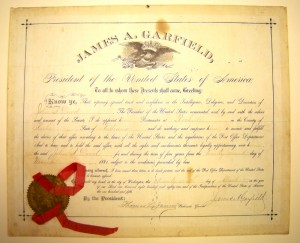 James Garfield held the second-shortest term as President of the United States. Only William Henry Harrison served a shorter term—in 1841 for only one month—when he died of pneumonia.
In an assassination attempt on July 2, 1881, Charles J. Guiteau shot Garfield less than four months after assuming the presidency. A veteran of the Union side during the Civil War, Garfield ran on the Republican ticket. Guiteau, disgruntled when his efforts to secure a position in the Federal Government failed, shot at approximately 9:30 a.m. at the Baltimore and Potomac Railroad terminal in Washington, D.C. He died of blood poisoning and other complications related to the shooting roughly two and a half months later, on Sept. 19, 1881.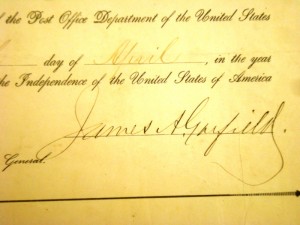 With such a short time in office, material signed by Garfield signed is very rare and signed documents and letters rarely appear on the market. The documents that are most readily available that feature his signature are cards or other smaller-sized pieces. As with a lot of presidents of that time, autograph seekers usually collected signatures of elected officials in autograph books. However, official documents, like appointments, are rare. Since his term was very short, he had little time to sign a quantity of such documents.
This photo depicts an example of an appointment Garfield made while president. This is called a Postmaster's Appointment, as it appoints an individual to run a postal location. This document appoints John B. Dowd as Postmaster at Rockville, Parke County, Ill. It is dated April 26, 1881, a little more than two months prior to his assassination.
I noticed that my Garfield document  was featured on "Antiques Roadshow" on Aug. 14, 2004, before I bought it. It was appraised by Chris Coover as being worth $10,000 at the time. Current value is about $12,500.
Rick Badwey is a Worthologist who specializes in historical autographs.
WorthPoint—Discover Your Hidden Wealth