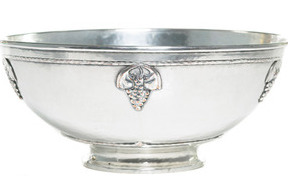 Ask a Worthologist: The 'Thrift Store' Bowl
[caption id="attachment_2519429" align="alignright" width="288"] This thrift-store find was a real winner. It's a rare Roycroft piece from pre-1920.[/caption] Gerald S. found this silver bowl at a second-hand shop. It wasn't until 
later that looked at he looked closer and decided to find out more about it by contacting us. He emailed us via WorthPoint's 
"Ask a Worthologist" service...
Read More