Harry Rinker on Gold Parties – Seller Beware

by Harry Rinker (05/12/09).
In this edition of Ask Harry Rinker on WorthPoint, Harry talks with Mary Brenneman about
why it is wise to avoid gold parties.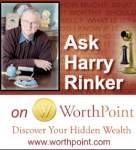 Host – Mary Brenneman, WorthPoint's VP of content
Send your questions for Harry to news@worthpoint.com.
Audio clip: Adobe Flash Player (version 9 or above) is required to play this audio clip. Download the latest version here. You also need to have JavaScript enabled in your browser.
Subscribe to this Podcast
For more from Harry Rinker on the pitfalls of selling gold items, read his feature article,"With Gold Sale Parties, It's Caveat Venditor, Not Emptor."