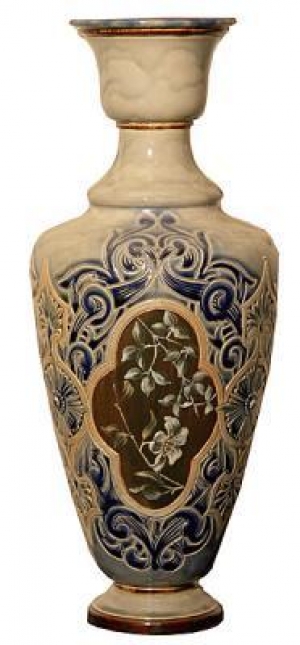 If you can't see a mark on a piece of fine pottery or art glass, that doesn't mean it isn't there. If your eye is trained to spot quality pieces but you are not able to find a mark, it can be well worth your time to keep on looking for one.
I once visited a very high-end antique store in Los Angles and was rather disappointed when I couldn't find anything of interest I could buy and later resell for a profit. But, as I was leaving the store, for some reason I looked up at a top shelf where there were two extremely large vases. I asked the dealer if he would get a ladder and bring them down so that I could get a better look at them. Hesitantly, he did.
I examined the vases from top to bottom but couldn't find a mark, even though I felt fairly certain they were Doulton Lambeth pieces decorated by one of their leading artists. I went over these pieces several more times but still couldn't find a mark and was considering putting them back on the shelf. Being the stubborn person I am, as all that I refused to give up, so I examined them another time. Finally, I caught a glimpse of three letters within the body of the vase, "FEB" — meaning Florence E. Barlow, the sister of Hannah Barlow. This had just become my lucky day. The two Barlow sisters were Doulton's best known decorators, and their vases always bring top prices.
Why hadn't others found these marks? Very simply, the marks weren't typically where one would find marks on pottery. I'm sure there had been hundreds of people who looked at the bottoms of these pieces and returned them to their shelf when they couldn't see a mark. You see, ninety-five percent of these vases would have been marked on the bottom. But, not these. And, to make it more difficult, this particular mark, "FEB" had been incorporated into the actual design of the vase, making it almost impossible to find. But, not impossible to a persistant and stubborn person like me. This poor dealer had no idea these vases were special pieces.
I could barely hold my composure when I asked the price. "Two hundred and fifty dollars each," was the dealer's response. I didn't know if it was time to dance or cry.
I returned to my car carrying these two precious bundles and carefully placed them in the back. Then, I pinched myself to be sure I wasn't dreaming. You see, these wonderful 22″ vases were worth over $5,000 each at the time.
This type of find isn't a rare occurrence. Lalique, Steuben and other art glass pieces with etched marks often present a huge challenge in finding the marks. The secret is to recognize the quality of the materials and the decorations on the piece. If they both meet the standards of a quality piece, then you should spend the time required to verify the maker.
The next show you attend, find a Tiffany Lamp and ask to look at it. I believe you will find it isn't easy to located the marks because of their small size and because of where they are located under the shade.
You can learn to spot quality when you make a study of the most sought after pottery, porcelain, and art glass. Knowing the work and values of in demand artists will put you at the head of the class. You'll be able to find the marks others miss.
Use every source you can in order to study. Search the Internet. See these pieces up close at shows. Invest in your own resource library. Used books can easily be found at reasonable prices through the internet. Choose your area of study.
When you spot that next high quality piece, be persistant in looking for a mark. It can pay you off tenfold.
For more information about marks, visit www.Marks4Antiques.com.
WorthPoint—Discover Your Hidden Wealth
Join WorthPoint on Twitter and Facebook.