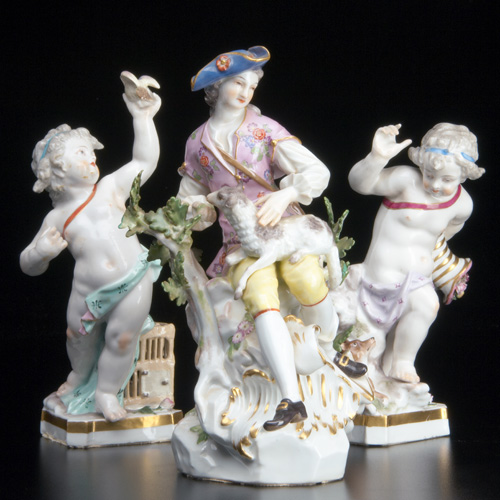 When you're considering buying an item or a painting that needs repair, as an antique dealer, you might ask yourself what the increase in value will be after its restoration. While I usually recommend the members of my antique business club, the 31 Club, to allow the purchaser do the restoration, there is that rare time it makes sense for you to have a piece restored.
One of our 31 Club members sent me a photo of a painting from a sales bulletin. It caught my eye, all right, and she planned to buy it. Before the sale, she contacted me again, saying the painting had some damage, but not too much. We agreed she'd bid on the piece without getting too carried away on the price. This painting soon became hers. She sent it to a restoration expert I recommended here in Chicago – Baumgartners, and yesterday I got to see it. Boy, is it a beauty!
The artist, Jean Dominique Van Caulaert (French 1877-1979) had a listing in Davensport of $9,000. While I don't expect this one to do that well, at under $750 restored, I believe this is a real treasure. In fact, I like it so much I was thinking it would make a great addition to my own collection. But, I'm not going to do that this time. I've got enough for now, so look for this soon in the 31 Gallery.
While I don't recommend you go out looking for damaged pieces, it you find a real quality piece, it might make sense if it is discounted enough. You see, when the restoration increases the value of a piece, by perhaps 5 to 7 times, that's when you step forward and get the repairs done.
The Frederick Morgan painting I wrote about in my book was a painting I had relined. I bought it for $16,000 and this restoration didn't reduce its value. It sold for $115,000 at auction at Christie's New York. It would have been very easy to have walked away thinking it was no good because it had been "fooled with". There are times you can be proud of the decisions you make and that was one of those decisions for me.
Usually, items should be left alone. I wouldn't want to be looking for damaged pieces and get to be known as a dealer of repaired pieces. But if the discount is sufficient and the restored article will bring many times its cost plus repair, then jump on it.
*****
FREE MENTORING from Daryle Lambert. Visit www.31Corp.com