Communing with Outdoorsman Horace Kephart through a Knife of his Design

by Craig Haney (11/14/12).
I didn't need another knife. I have some great ones—handmade and factory forged—that have served me well from the Rocky Mountains to the swamps of the Deep South. However, since I was going to spend more time on Hazel Creek in Great Smoky Mountains National Park, I needed a knife with close ties to the region—a tool that even Horace Kephart would appreciate!
While searching the Internet, I found bladesmith David Wesner and Kelsey Creek Knife Works. He said he had not made a Kephart pattern, though he was interested in undertaking the project. Wesner asked me to send him a drawing and specs of what I had in mind.
A few days later we discussed steel and handle material. I settled on a four-inch blade of 1095 steel, which was to be 1/8-inch thick with scales of stabilized birds-eye maple and red liners. Upon my request, Wesner tapered the handle 3/8 of an inch from back to front for a better grip, and added a thong hole and hamon.
When the package arrived, I was excited as a kid at Christmas. I tore it open to find bright steel and warm wood that fit my hand perfectly. The features on the knife and sheath were outstanding. Both, I assumed, were ready for use in the land of Kephart.
Hazel Creek is accessible by a seven-mile hike or a 20-minute boat ride across Fontana Lake. Its elusive trout, beautiful scenery, wildlife and history make it a special place for me. The trout streams of this utopia have become my favorite, despite the five-hour drive from my residence in Alabama.
It was there, among the rhododendrons and mountain laurel, where Kephart first called home when he came east in the early 1900s. After settling into a small cabin and exploring the surrounding forest, he began writing about his backcountry adventures for various outdoor magazines. He went on to write two books from those experiences, "Our Southern Highlanders" and "Camping and Woodcraft." Both are still in print.
Kephart developed what he considered the perfect knife. Whether dressing game, doing camp chores or cooking in the kitchen, its durability was sufficient for a woodsman's existence. The knife became famous through his articles and books, and later was produced commercially by Colclesser Brothers.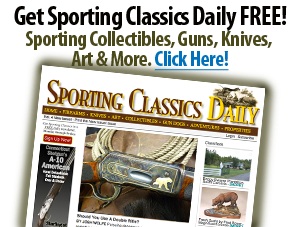 In my mind's eye, I can see ol' Kep' on his cabin's porch, holding my knife. And of course he's grinning from ear to ear… just like me.
In the mid-1980s through the late '90s, Craig Haney wrote about and photographed a variety of subjects for a number of regional and national outdoor publications. He was the cutlery columnist for National Outdoor Outfitter News for several years. Additionally, Craig has served as consultant for Westervelt Lodge's Fred Bear Bowhunting School, Turkey School and Backcountry Skills Schools. He also was an advisor and instructor for the Alabama Backcountry Lodges and Stagshead Lodge deer hunting, turkey, outdoor skills and survival schools. Craig lives with his wife Lynn on the headwaters of Patton Creek in the foothills of the Southern Appalachians.
To receive your FREE subscription to Sporting Classics Daily, click here. This online publication will provide you with timely news and stories concerning the outdoor industry as well as classics from the pages Sporting Classics Magazine.
WorthPoint—Discover Your Hidden Wealth
http://www.sportingclassicsdaily.com/subscribe