Fit to be Tied: Father of American Fly Fishing Theodore Gordon's Tying Vice

by Josh Wolfe (11/29/12).
If there is a crown jewel for the fly tier, the vice once owned by Theodore Gordon might be the Holy Grail. It was his innovation that created independence for fly fisherman in the U.S. While our country produced some of the finest rods and reels available, thanks to Edward Vom Hofe, E.F. Payne, H.L. Leonard and others, flies were another matter.
During most of the 19th century, American fishermen primarily relied on England to create natural-looking invertebrates. Through articles in various outdoor magazines, as well as correspondence with the wealthy and influential British anglers Frederic Halford and G.E.M. Skues, Gordon was able to design patterns indigenous to the waters of his native Catskill Mountains.
The vice is marked "L. Hugoniot-Tisso," which was a French manufacturer of tools for watchmakers, jewelers and clockmakers. Since Gordon's death in 1915, it has traded owners several times, including Roy Steenrod and Sparse Grey Hackle, who photographed it for his book "Fishless Days, Angling Nights."
Hackle then sold the vice to David Sutcliffe, who, before selling it to Theodore Gordon Peck V, signed and notarized a letter outlining its lineage. Peck consigned it to Crossroads Angling Auction, and on Oct. 27 of this year, it went to the highest bidder for $6,000.
At the time of his death, Gordon was living in Liberty, N.Y., and suffering from tuberculosis. All of his possessions were burned, as it was believed the disease could be contracted from anything he'd touched. His books, fly-tying materials and a rumored manuscript—all of which would be considered treasures today—were destroyed.
"It is with great honor and privilege that Crossroads Angling Auction had the opportunity to make some of Theodore Gordon's personal fishing tackle available to the public," said Crossroads' owner Steve Starrantino. Other items included his Montague fly rod and two sets of flies.
No name in American fly-fishing invokes such reverence and respect as Theo Gordon. However, it wasn't until John D. McDonald's "The Complete Fly Fisherman: The Notes and Letters of Theodore Gordon" was published in 1947 that he received national acclaim. Today, he is regarded as the father of American dry-fly angling for his ingenuity.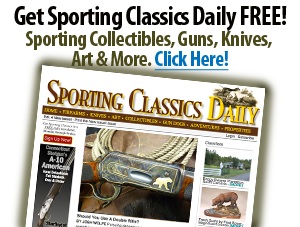 Crossroads Angling Auction's next auction will take place in April. Two extraordinary items already consigned are a watercolor painting by Ogden Pleissner and Eugene V. Connett's "Magic Hours," the first book ever printed by Derrydale Press. Another copy of "Magic Hours" is up for bid at Christie's, which carries and estimated sales price of $20,000 to $30,000. That auction will close on Dec. 7.
Josh Wolfe is the assistant editor at Sporting Classics Magazine. His main objective is quarterbacking the online publication, Sporting Classics Daily, which will maintain the authenticity and integrity of the magazine.
To receive your FREE subscription to Sporting Classics Daily, click here. This online publication will provide you with timely news and stories concerning the outdoor industry as well as classics from the pages Sporting Classics Magazine.
———————————
WorthPoint—Discover Your Hidden Wealth