André Meyer Collection of Classical Music Manuscripts on Auction at Sotheby's Paris

by WorthPoint Staff (10/12/12).
PARIS – Thanks to its quality, rarity and diversity, a collection of manuscripts, printed music, paintings, furniture, sculpture, drawings and musical instruments—including an autograph sketchleaf of piano music by Ludwig van Beethoven once owned by Frédéric Chopin—André Meyer's collection devoted to music is considered one of the most impressive in France. And it will be offered for auction at Sotheby's Paris on Oct. 16-17 2012.
Meyer (1884-1974) was one of the few collectors to have devoted his entire life to music. He was a patron, critic and inspirer of artists who opened his library to anyone who wished to explore its particular treasures. Serge Lifar used it to carry out research; Rostropovich worked on Debussy's youthful manuscript albums; and Stravinsky had the thrill of rediscovering his manuscript for "The Rite of Spring"— which Andre Meyer's son donated to the French Ministry of Culture in 1986, and is now in the Bibliotheque Nationale.
Meyer began his collection in 1899 at the age of 15. In 1904 he obtained a degree in English Literature at the Sorbonne, then worked for the family textiles firm until1954. He acquired many items for his collection during professional trips across Europe and to the United States. Such was his love of music that, in the 1920s, he bought the mansion in Rue des Petits-Champs once owned by the composer Lully. Meyer was treasurer of the French Musicology Society from 1945 until his death in 1974. After his death, the collection was divided between family members, and this auction contains the major part of the original collection, about 450 lots.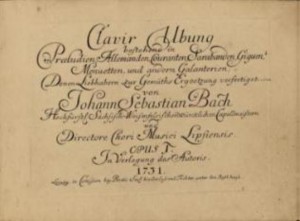 The heart of the collection consists of manuscripts; books and printed musical scores; portraits of the composers Monteverdi, Rameau, Gluck, Mozart, Schubert, Chopin, Liszt and Schumann; furniture; sculpture; and a selection of old musical instruments.
The most outstanding discovery of this collection is unquestionably a sketchleaf of exercises by Ludwig van Beethoven, containing ideas and exercises for piano—including scales, arpeggios and musical fragments in a range of keys (C Major & Minor; G Major & Minor; F Minor). Beethoven outlined a more elaborate composition on the back, probably for a piano concerto in C Major—comprising tremolos and a passage of ascending scales for piano, culminating in a cadenza followed by a double-bar. It carries a pre-sale estimate of $130,000 to $200,000.
The legendary collector Aloys Fuchs acquired Beethoven manuscripts at the auction held after the composer's death in 1827. When Frederic Chopin visited Vienna in 1830-31, Fuchs presented this manuscript to him. Chopin was a great admirer of Beethoven's work, especially his piano sonatas and the opera "Fidelia."
The Six Partitas are among Bach's finest works for keyboard and musical editions published during his lifetime are exceedingly rare. Each of the six Partitas was first published individually, beginning in 1725. In 1731, Bach united them in a single volume, Clavier-Übung I, and designated it his Opus 1, as if it underlined the importance of these works. There were three further Clavier-Obung publications: the second, comprising his Italian Concerto and French Overture; the third, with the Duets and the St. Anne Prelude and Fugue; and a fourth, with the Goldberg Variations. (est. $100,000-$150,000).
This landmark work in Schoenberg's oeuvre, and in 20th century music as a whole, broke with string quartet tradition by introducing a soprano voice to the last two movements. This manuscript is the cornerstone of Schoenberg's development of atonality: In the fourth movement, Schoenberg for the first time dispenses with the use of key signatures.
Schoenberg composed the work in 1908 during the troubled period marked by his wife Mathilde's affair with their mutual friend, the artist Richard Gerstl. Schoenberg's reconciliation with his wife led to Gerstl's suicide, and Schoenberg soberly dedicated this quartet to his wife ("Meiner Frau"). Weakened by the trials of the Frist World War, Mathilde spent the last weeks of her life at Auersperg Sanatorium; the Seybert family invited Schoenberg and his closest relatives to stay with them so as to be close to her. After Mathilde's death in October 1923, Schoenberg gave them this well-preserved copy of his second quartet in gratitude for their hospitality (est. $100,000-150,000).
A leading theoretical work of the 18th century, and a starting­point for later theoretical studies, Rameau's "Treatise on Harmony," or "Traité de I'Harmonie réduite a ses principes naturels", was of fundamental importance in the development of western music, providing a synthesis of Rameau's approach to music as a science rather than an art form. Sotheby's will be offering the composer's celebrated annotated copy (est. $75,000-$100,000).
The collection also includes the printed score of Marco da Gagliano's "Dafne" (1608), a landmark in the development of opera, of which only a handful of copies survive (est. $40,000-$50,000); a volume containing unique madrigal scores by Luca Marenzio, Luzzasco Luzzaschi and others (est. €8,000-10,000 I $9,800-12,300); and a magnificently engraved copy of Girolamo Frescobaldi's "Secondo Libra di Toccate" (Second Book of Toccatas) from 1627 (est. $25,000-$40,).
Portraits of 17th, 18th & 19th Century Composers
The collection also features a gallery of busts and portraits on paper or canvas of great composers, including "Frederic Chopin at the Piano" by Jakob Gotzenberger (est. $12,000-$20,000); "Robert Schumann" by F. Mannheimer (est. $8,000-$10,000); "Franz Schubert Aged 17" (circa 1814) by an unknown Austrian artist (est. $12,000-$20,000); "Christoph Willibald Ritter von Gluck" by Joseph-Siffred Duplessis (est. $12,000-$20,000); and "Jean­ Philippe Rameau," in the style of Jacques-Andre-Joseph Aved (est. $12,000-$20,000).
The sculpture and works of art highlights include an important French, late 18th-century polychrome wax profile of Wolfgang Amadeus Mozart (est. $12,000-$20,000), and a fine collection of caricatures of famous musicians and composers patinated plaster by Jean Pierre Dantan (1800-1869), called Dantan Jeune, of which a portrait of Giuseppe Verdi dating from 1866 (est. $6,000-$8,000) is the focus.
An important piece of pearwood paneling decorated with musical trophies (circa1730) reflects the talent of the sculptors Degoullons, Legoupil and Verbeckt (est. $15,000-$20,000). The collection also includes a rare pair of giltwood consoles adorned with musical instruments, probably from mid-18th century Germany (est. €20,000-$30,000); and a pair of chairs by Georges Jacob, whose unusual design recalls that of chairs made for Madame Elisabeth at the Chateau de Montreuil (est. €6,000-8,000). There is also a small but interesting collection of keyboard instruments.
This auction is to be held Oct. 16 and 17 at the Sothebry's in Paris. For more information about this auction, visit the Sotheby's website.
———————————
WorthPoint—Discover Your Hidden Wealth