Antiques & Collectibles National Association Celebrates 20th Anniversary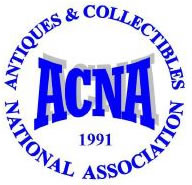 DAVIDSON, N.C. – The Antiques & Collectibles National Association (ACNA), which was established in 1991 to provide benefit programs and a national association for antique dealers and private collectors, is celebrating its 20th anniversary in 2011.
Among the most popular benefit of ACNA membership is its insurance programs. ACNA currently has four A-rated insurance carriers that can write property, liability and building coverage for shop owners, mall owners, mall & show dealers and show promoters. It also has an inland marine program for private collectors and can also write coverage for antique, collector & muscle cars.
The ACNA also hosts educational seminars and workshops with experts from A to Z and publishes a quarterly newsletter—"The World of Antiques & Collectibles" —for its members to keep them informed of what's happening in the industry.
The most recent seminar was held in New Orleans and dates and locations are currently being examined for the next seminar. Additional benefits include discounts on merchant services, on-line selling, education, computer programs, hotel, car rental, trade publications, supplies, security, health programs and much more.
ACNA currently boasts more than 3,000 members from all 50 states. Annual membership dues is $50. For more information about the ACNA, call 800.287.7127 or visit the ACNA web site.
———————————-
WorthPoint—Discover Your Hidden Wealth