Auction of 18th Century Map Depicting the Battle of Long Island to Benefit Housing Works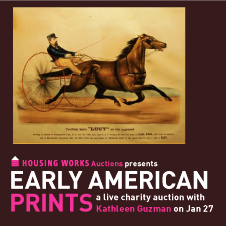 This past holiday season, you may have seen the heartwarming news story that was making the rounds about somebody who dropped a gold Krugerand in a Salvation Army bucket. Housing Works Thrift Shops, a division of a nonprofit AIDS organization that hosts live auction charity fundraisers, experienced its own version of the gold coin—except the gold coin was a rare 18th century map.
Last year, a corporate donor who wishes to remain anonymous donated nearly 300 early American prints to Housing Works, which runs a popular chain of ten upscale secondhand thrift shops in Manhattan and Brooklyn. The donation included dozens of prints from Currier and Ives, most of which were valued at less $500. Fortunately, Kathleen Guzman got a look at the collection. Guzman, a well-known appraiser most recognizable from her frequent appearances on the "Antiques Roadshow," happens to be a weekly volunteer at the Housing Works Thrift Shop near her home in Manhattan. Among the prints, Guzman discovered a hand-drawn 18th century map depicting the Battle of Long Island between Britain and the George Washington's Continental Army in 1776. Estimated value? Between $14,000 and $16,000.
"We couldn't believe it," said David Thorpe, a spokesperson for Housing Works Thrift Shops. "We have been running thrift shops since 1995, and have sold millions of secondhand items. As far as we know, this is the most valuable single secondhand item we have ever received."
Guzman says the map has a fascinating history. "The cartographer Samuel Holland produced a number of important maps of North America from 1761 and as Surveyor General for the Northern District in 1764," Guzman said. "Before the revolution, these include maps of the entire New England coast and sections of the Hudson. The Housing Works map depicts in compelling detail a sizeable portion of Long Island, from Oyster Bay westward to New Brunswick, New Jersey and as far north as Haverstraw Bay, with the British Army's landings at Gravesend and Utrecht and its decisive flanking movement at Bedford and Flatbush in present-day Brooklyn. This is a rarity."
The map, along with 90 other early American prints, will be auctioned off at the "Early American Prints, Part 2" sale on Wednesday, Jan. 27, 2010 at a live auction at the Housing Works Thrift Shop Gramercy location (157 E. 23rd St.) in Manhattan, starting at 6 p.m.. Guzman will, of course, be doing the auctioneering honors. Those who do not live in the New York City area can participate in the auction on Liveauctioneers.com.
Even if a $15,000 map is out of your price range, Guzman said that there are plenty of other treasures to be had. Many of the prints were originally sold through the famed Kennedy gallery, and—just in time for Presidents' Day—many of them depict historical figures such as George Washington and Abraham Lincoln. There is a notable group of horseracing prints. For example, Currier & Ives' "Ethan Allen and Mate Crossing the Score: A Dead Heat."
"The sport of horse racing and trotters was extremely popular in the 19th century and the Currier & Ives firm knew this subject would make a winning print. This run-off at Union Course paid an amazing $10,000 to the winner in 1859. The public was fascinated by such high-purse events," said Guzman, who estimates the print's value at $400 to $600.
The collection is also rich in depictions of 19th century New York. One print is titled "Hudson River at West Point," from the American School, mid 19th-Century, in the manner of William Henry Bartlett. "William Henry Bartlett was a British artist who visited the United States four times between 1836 and 1852. He documented his travels in a series of engraving entitled 'American Scenery,'" Guzman said, adding that the value of the piece is estimated to be between $500 and $700.
In addition to the "Antiques Roadshow," Guzman has worked for Christie's. Thanks to Guzman's expertise, the first Housing Works early American prints auction last October raised an impressive $40,000 (for 56 lots). "I was gratified by the response to the first auction," Guzman said. "Housing Works is a fantastic organization."
All Housing Works Thrift Shops profits go to Housing Works, Inc., the largest AIDS service organization in the United States. Housing Works provides an array of lifesaving services, such as housing, medical care, meals, job-training, and legal services, to homeless and low income people living with HIV/AIDS. For more information, visit its Web site: www.housingworks.org.
WorthPoint—Discover Your Hidden Wealth
Join WorthPoint on Twitter and Facebook.