Auction Report: Heritage's Signature Music and Entertainment Memorabilia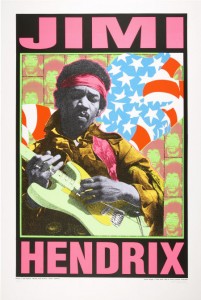 Heritage Auction Galleries' Signature Music and Entertainment Memorabilia Auction goes up on Feb. 21 and 22 with 1,343 items for sale. It features entertainment and pop-culture memorabilia, including celebrity-signed documents, vintage photographs of stars of stage and screen, props and costumes from the world's most celebrated productions. This auction offers entertainment treasures and is truly a collector's paradise.
Starting of with costumes, Lot 49048 has all the bells and whistles. This head-turning and eye-popping quilted jacket made by Josephs' Coat was owned and worn by Sammy Davis Jr. The jacket has an estimate of $5,000 and a minimum starting bid of $2,500. The coat is tasseled and decorated with brocade and assorted trim. The inner lining label bears his name along with "50th Anniversary in Show Business," dated 1980. The jacket is in excellent condition.
Another great costume from a legendary performer is Lot 49271. John Wayne wore this cavalry coat for a Western film unknown. The estimate of $12,000 with a minimum bid of $6,000 speaks well of the Duke's collectibles draw. The coat is a full-length, heavy wool, cavalry-style frock coat. Wayne, who starred in many Westerns during his long career, often played a heroic U.S. Army officer. The coat is in excellent condition with a Western Costume Co. tag bearing Wayne's name in the inner pocket.
The hot autograph market leads the way with Elvis as reigning king. Lot 50230 is a signed Elvis Presley contract dated April 10, 1974. This performance contract is between J. D. Sumner and the Stamps Vocal Group and the Elvis Presley show. The agreement is for a four-day tour. Elvis rarely signed his contracts himself. His management usually rubber-stamped them for him. To demonstrate his respect for Sumner, Elvis signed this one himself. Framed and in excellent condition, the contract is going up with an estimate of $5,000 with a minimum bid of $2,500.
Elvis is still topping the charts with Lot 50210. This extremely rare EP RCA SPD-23 three-disk set has an estimate of $1,200 with a minimum bid of $600. This set could only be purchased as part of a promotion by RCA to sell record players. The sets appeared in 1956 as part of Elvis' launch with RCA, and the company seized the opportunity to market numerous products in the King's name.
To help promote RCA's new portable player division, two special Elvis record players were made. The first was a four-speed model with Presley's personal autograph stamped in gold on the lid. The second was something cutting edge, an autographed automatic 45 portable capable of ONLY playing 45s with the introduction of being able to stack up to 14 records above the turntable. The three-disk set is very rare, much more so than the two-disk set offered with the cheaper player. Condition for two is excellent, and the third is very good.
Of the 141 lots of photographs, three stand out. First, if you are a Boris Karloff fan, there are many photos of him throughout this category. But collectible favorites are Lot 49275, Billy Wilder's "Some Like It Hot" promotional shots, seven total, with an estimate of $500 and a minimum bid of $250.
Lot 51202, with an estimate of $400 and a minimum bid of $100, is a great shot by the legendary Hollywood photographer, Clarence Bull, featuring Elizabeth Taylor in a "National Velvet" promotional still shot.
Rounding out the photos is a signed picture that can only be described as charming of Audrey Hepburn. Taken in the late 1950s with no attribution, it is autographed to "Allen, My Best, Audrey Hepburn." A clear signature in blue ballpoint is in excellent condition and comes with a letter of authentication.
An opening bid is the amount required to begin the bidding process on a lot and is generally 50 percent of the low estimate. The next bid will meet that amount.
– By Christopher Kent, a member of the WorthPoint board of advisers and director of evaluations for WorthPoint. He is also an antiques and collectibles generalist, fine-arts broker and president of CTK Design.
WorthPoint—Discover Your Hidden Wealth