A Behind-the-Scenes Peek at the 51st Original Miami Beach Antique Show

by WorthPoint Staff (02/07/12).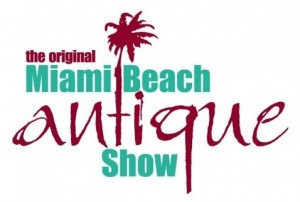 Martin Willis, a Worthologist and host of the Antique Auction Forum, visited the 51st annual Original Miami Beach Antique Show from Feb. 2 to 6, 2012, at the Miami Beach Convention Center. Martin brought his video camera and gives you a behind-the-scenes look at the show's set up, the opening and a walk through the booths.
The Original Miami Beach Antique Show, sponsored by WorthPoint this year, is the largest indoor antique show in the world, with many treasures from all over the globe. Visitors are sure to discover some of the finest things they've ever seen on exhibition here.
Take peek at this great show, attended by celebrities, royalty, museum representatives and collectors from all walks of life, and make plans to attend next year's show, scheduled for Jan. 31-Feb. 4.
.
.
Martin Willis is Worthologist and auctioneer who owns Seaboard Appraisal Service. You can hear his podcasts at the at Antique and Auction Forum, featuring interviews with key players in the antiques and collectibles trade.
———————————
WorthPoint—Discover Your Hidden Wealth