Christie's Kicks Off Fall Season with Diverse September Calendar of E-Commerce Sales
NEW YORK – Christie's is pleased to announce its exciting line-up of featured e-commerce sales taking place this September. These exclusive online-only sales contain tremendous diversity in their offerings as well as their price points, and present opportunities for collectors at every level.
---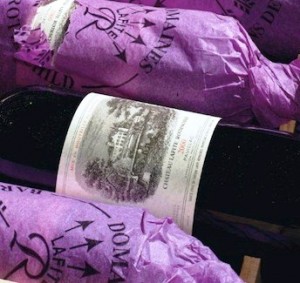 Wine: Signature Cellars | Sept. 10-29
Christie's first Signature Cellars sale of the fall season presents an intriguing lineup of more than 700 lots of wines from around the globe. With estimates starting at just $50, this sale features a vast array of wine regions including the Loire Valley, crus from Beaujolais and even Chateau Musar from Lebanon. The sale also encompasses more than two hundred lots from the Bordeaux Wine Company with hundreds of dozen bottle cases of claret, such as the 2004 Berliquet (estimate: $150-$250). This sale will also encompass classic vintage Bordeaux, such as a single bottle of 1982 Chateau Pichon, Lalande (estimate: $300-$500), and examples from the best Burgundy producers, including a single magnum of 1983 Romanée-St.-Vivant from Domaine de la Romanée Conti (estimate: $2,000-$3,000).
---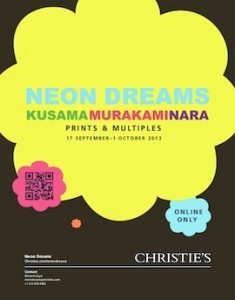 Neon Dreams: Editioned Works By Kusama, Murakami and Nara | Sept. 17-Oct. 1
"Neon Dreams: Editioned Works by Kusama, Murakami and Nara," is a celebration of Japanese contemporary editions in an unprecedented online-only sale. Neon Dreams features a survey of each artist's print career, including a selection of Murakami's lithographs, Nara's woodcuts and Kusama's ceramic pumpkins. Timed to coincide with Asia Week, First Open and New York Fashion Week, the sale highlights the trio's influence and connection to global fashion, design and culture. With more than 100 works ranging from $800 to $60,000, the sale presents an opportunity to own these iconic images for established and new collectors.
---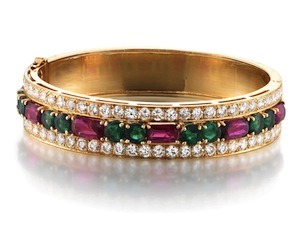 Hong Kong Jewels | Sept. 19-Oct. 3
The second online‐only sale of jewelry, Hong Kong Jewels features more than 90 lots with price points accessible to a wide range of collectors. This enchanting array of diamonds, colored stones, cultured pearls, jadeites, watches and more is predominantly from one major private collection. Highlights include a ruby and diamond pendent necklace (Lot 13, Estimate: U.S. $7,500-$10,000), a set of emerald and diamond necklace and ear pendants (Lot 68, Estimate: $6,500-$10,000), and a set of cultured pearl, diamond and ruby necklace, ring and ear clips (Lot 84, Estimate: $10,000-$15,000).
---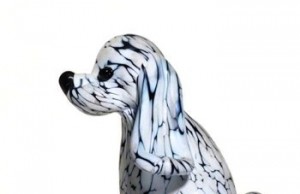 20th Century Italian Glass | Sept. 19-Oct. 3
A private collection of 20th century Italian Glass representing productions from all of the major Venetian glass houses and designers, such as Venini, Cenedese and Barovie, will consist of 50 lots with estimates beginning at $400. Dates range from the 1920s to present day with the majority originating around the 1950s-1960s.
---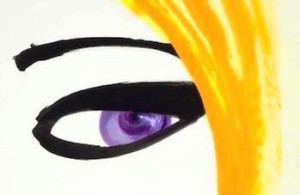 Rene Gruau: Master of Fashion Illustration | Sept. 24-Oct. 8
Rene Gruau was a renowned fashion illustrator credited with shaping the marketing and advertising industry for Haute Couture houses, Fashion magazines and product advertisers in the 20th century. Characterized by daring simplicity and vivacious use of color and line, this collection of 48 gouache and ink illustrations are the original studies that were realized on countless magazine covers and ad campaigns. Dates range from 1940s through to his final commission in 1999, an illustration of Cindy Crawford for a new ad campaign at Omega. Estimates range from $4,000 through to $70,000.
---
WorthPoint—Discover Your Hidden Wealth