EBay & Sotheby's Partner to Bring World-Class Art, Collectibles to Global Audience
NEW YORK – Move over, sellers of old iPhones, vintage Barbies and second-hand designer clothing, and make way for Rembrandts, Matisses and Jackson Pollocks, as eBay—the global leader in online shopping—and storied international auction house Sotheby's have formed a partnership that will allow art, antiques and collectibles lovers across the globe to browse and acquire exceptional works that until now were the purview of high-end galleries and auction houses.
The companies announced the deal in a joint media release issued on Monday, July 14. The financial terms of the deal were undisclosed.
At first blush, it looks like a marriage made in marketing heaven. Sotheby's, founded in 1744 in London, offers a well-known expertise in world-class artwork and collectibles, as well as centuries of auction experience, while eBay's website, integrated payment solutions and dominance in the online collectibles world—not to mention its 145 million active buyers world-wide—provides easy and headache-free buying.
"The growth of the art market, new generation technology and our shared strengths make this the right time for this exciting new online opportunity," said Bruno Vinciguerra, Sotheby's chief operating officer. "We are joining with eBay to make our sales more accessible to the broadest possible audience around the world."
Devin Wenig, president of eBay Marketplaces, added, "a Sotheby's-eBay partnership is a significant milestone in our efforts to expand the live auction market. Sotheby's is one of the most respected names in the world. When you combine its inventory with eBay's technology platform and global reach, we can give people access to the world's finest, most inspiring items—anytime, anywhere and from any device. That is an experience we believe our customers will love."
According to a Monday media release, eBay and Sotheby's will begin small, offering a number of live auctions to take place at Sotheby's headquarters in New York. EBay will be launching a "newly-designed experience on its site, tailored for collectors of rare, unique and premium art and collectibles, as well as first-time buyers. Sotheby's will be the preeminent anchor tenant in the revamped marketplace, which will include a new live auction feature and real-time bidding from anywhere around the world."
The plan calls for Sotheby's to present auctions in 18 collecting categories in themed and time-based sales, as well as live auctions from Sotheby's facilities around the globe.
This partnership is evidence that more and more collectors are relying on Internet and mobile buying technologies, buying five- and six-figure items online and even on-the-go from their smartphones and tablets. The two companies expect to concentrate on collecting categories coveted items and rising price points, such as jewelry, watches, prints, wine, photographs and 20th-century design.
According to a recent report put out by The European Fine Art Fair (TEFAF), the global art market is currently estimated around $65 billion, with annual online sales far below averages for other luxury goods, but projections show online art sales could reach $13 billion by 2020.
"We believe there is a great opportunity, through this partnership, to truly make art more accessible to exponentially more collectors," Vinciguerra said. That's what makes this so exciting."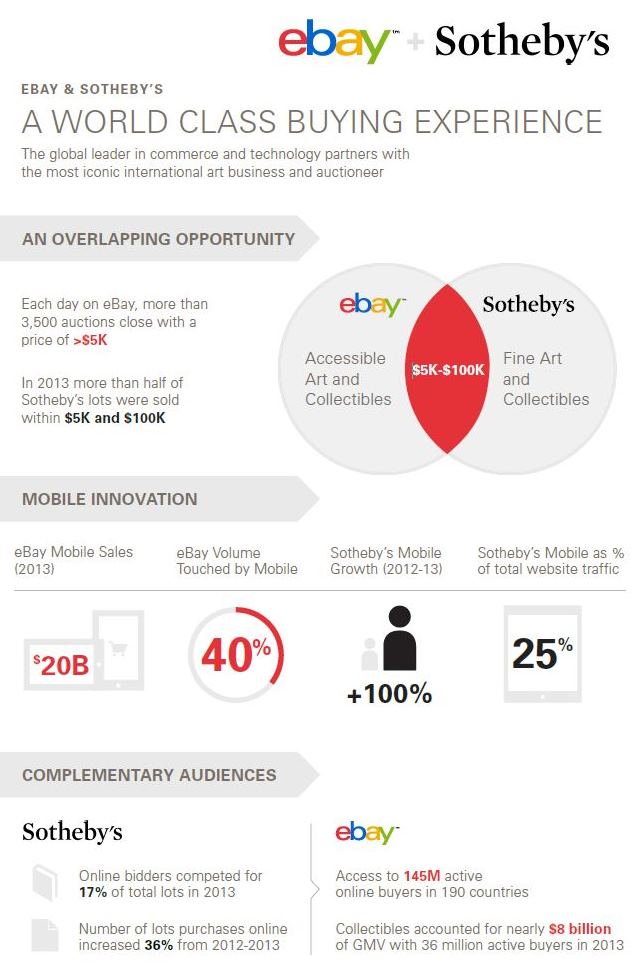 .
Sotheby's by the Numbers
• Online bidders competed for 17 percent of the total lots offered in 2013;
• John James Audubon's elephant-folio "The Birds of America" sold in April 2014 for $3.5 million, setting a new record for an online purchase in a live auction at Sotheby's;
• The number of lots purchased online in 2013 increased 36 percent over 2012;
• In 2013:
o More than half of all lots sold were in the $5,000-$100,000 range ;
o The average value for sold watches was $41,753;
o The average value for sold prints was $27,575;
o The average value for sold books & manuscripts was $18,484;
• 32 percent of all BID-now bidders had never transacted at Sotheby's prior to 2013;
• The number of visitors to sothebys.com on mobile devices (tablet + smartphone) doubled in 2013 vs. 2012;
• Mobile traffic in 2014 accounts for 25 percent of total Sotheby's website traffic.
eBay by the Numbers:
• Collectibles accounted for nearly $8 billion of GMV in 2013 with 36 million active buyers;
• Each day on eBay, more than 3,500 auctions close with a price of $5,000 or more;
• eBay has 145 million global active buyers in 190 countries;
• 40 percent of eBay volume is touched by mobile;
• eBay earned $20 billion in mobile commerce in 2013, up from $0 in 2008.
---
WorthPoint—Discover Your Hidden Wealth