Housing Works to Host 'Early American Prints' Charity Auction

by WorthPoint Staff (09/28/09).
NEW YORK – Housing Works Auctions announced today that on Wednesday, Oct. 7, it will host "Early American Prints," a live charity auction of more than 60 fine prints from 19th-century America, including dozens by legendary engravers Currier & Ives. Longtime Housing Works volunteer and celebrity appraiser Kathleen Guzman will serve as auctioneer. The prints, which can roughly be broken down into Pastoral Scenes, Marine Subjects, Historical Figures and Events and Maps, range in estimated value from $100 to $1,500.
Housing Works Thrift Shops is a unique entrepreneurial venture composed of seven upscale locations in NYC, and online auctions. All provide funding for Housing Works' efforts to end homelessness and HIV/AIDS in New York City.
A video message from Guzman and the prints can be viewed online.
While the live auction is free, for $50, the public can meet Guzman and a group of her celebrity colleagues, including Daile Kaplan, Nicholas Lowry of Swann Galleries, Eric Silver of Lillian Nassau, and Joyce Jonas, jewelry appraiser, at a VIP pre-auction cocktail party. (Housing Works members get in free. Join at www.housingworks.org). Guzman, Kaplan, Jonas, Lowry and Silver have appeared frequently on PBS's "Antiques Roadshow."
The venerated auction house Swann Auction Galleries and the collectibles website WorthPoint.com are contributing support to the "Early American Prints," event, which will feature champagne, light hors d'oeuvres and Martine's fine chocolates of Bloomingdale's.
For those who can't make the Oct. 7 live auction, a separate selection of prints will be auctioned online on Housing Works Thrift Shops' auction site, Shophousingworks.com. Bidding online starts at 7 p.m. on Thursday, Sept. 24 and ends at 7 p.m., Thursday, Oct. 8. Online auction items will be featured in the windows of Housing Works Thrift Shops' 23rd St. and 77th St. stores starting on Friday, Sept. 25.
"Early American Prints" was prompted by an anonymous donation of nearly 300 engravings and prints. Many were originally sold by the famed Kennedy Gallery.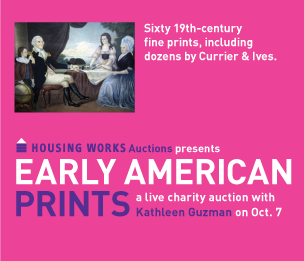 "This is a unique opportunity to bid on treasured artwork for your home or collection and generously help a worthy cause," said Guzman. "Charming and significant prints by Currier & Ives, Endicott Brothers + Company, and William Sartain will be offered. Most notable are the many works depicting Hudson River subjects and the Catskill Mountains to be sold without reserve to the highest bidder."
For more information about the "Early American Prints" event, visit the online catalog here.
WorthPoint—Discover Your Hidden Wealth