International Society of Appraisers Turns 30, Hires New Executive Director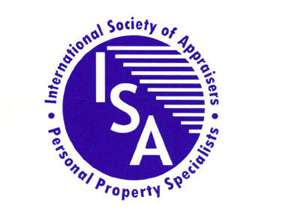 CHICAGO – The International Society of Appraisers has announced the appointment of Joe Jackson, CAE, as the new executive director of the nation's fastest-growing personal property appraisal organization. Jackson comes to ISA with a strong background in association management having served for seven years in a similar position for the American Institute of Architects in Colorado and as a regulatory lobbyist in California. His mission is to be the facilitator in guiding the ISA to becoming the strongest appraisal organization in the marketplace and to keep ISA's name at the forefront of the appraisal arena.
"The heart of the program is to solidify the existing base of what we are good at, expand the support services we offer to members and to be at the forefront of educational opportunities including distance learning and webinars," said Jackson. "We have already started implementing this.
"ISA is a growing and dynamic organization for personal property appraisers with an excellent and experienced staff, top rated educational programs and the best conference in the profession."
Part of Jackson's new job will be to let the public know about the caliber of education available to ISA members and to reach everyone, including the interested public, who might have the need for an appraiser.
As part of its commitment to expand educational opportunities, ISA also has a new director of education in Leon Castner, ISA CAPP. Castner said that he plans to expand the line of educational programs including the development of new courses and the webinar program for delivery of short appraisal related education programs and product knowledge updates. Assisting Jackson is a growing and committed staff of professionals including Jennifer Hopkins, director of meetings, Rachel Walsh, meetings coordinator, Michelle Stearns, education and credentialing coordinator, and Sara Porter, membership coordinator.
Judith Martin, ISA CAPP and president of the ISA board of directors, said "We are starting to see some real movement. We recognized a little over two years ago that our members needed to be heard and acknowledged for what they do, helping middle-America. Many of our members are generalists and they can assist families since they understand residential contents and antiques. They know how to identify items, not just from what they already know but from the ISA network of referrals through other ISA members they can depend on. Our members can fulfill their clients' needs in times of divorce, casualty or theft loss, property division and other cases when identification and evaluation are needed."
ISA is now 30 years old and still has some of the original members. With headquarters on Chicago's Magnificent Mile, ISA is now managed by Sentergroup, Inc, a full service association management firm. ISA proudly offers a full schedule of educational opportunities for new and veteran appraisers spread out over all of 2010 including the "Assets 2010" Conference in Toronto on April 30-May 3, 2010. The complete seminar schedule and additional information is available on the ISA Web site. For more information, call 312.981.6778, e-mail isa@isa-appraisers.org, or write to ISA, 737 North Michigan Ave., Suite 2100, Chicago, IL 60611.
———————————
WorthPoint—Discover Your Hidden Wealth
Join WorthPoint on Twitter and Facebook.