Jewel or Junk? Worthologists Provide Answers at Original Miami Beach Antiques Show

by WorthPoint Staff (02/10/12).
Whether it's a melted spoon or a paper lunch bag filled with diamonds, WorthPoint's Worthologists have seen it all. Last Saturday, Feb. 4, eight professional antiques appraisers from WorthPoint took a look at precious jewels, delicate china and even a 1920 U.S. Navy ceremonial sword for free at the 51st annual Original Miami Beach Antique Show at the Miami Convention Center and offered their opinions.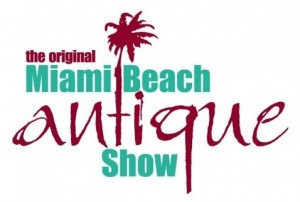 Scores of people, with their treasures wrapped in towels, paper bags and nestled in insulated coolers, waited to their turns to find out whether their valuables are really, well, valuable. Christina Veiga and Alexandra Leon from the Miami Herald tell the story:
"The WorthPoint appraisers swooned over a little brass compass Tom Gregory had brought to the Miami Beach Antique Show to learn if it had any worth.

'It's one of the nicest little oddities I've seen in a long time,' said appraiser Tim Corfield.

'Brilliant,' added appraiser Mike Wilcox.

But looks can be deceiving.

Small enough to fit in the palm of your hand, the compass had a face that lifts up, and a sundial arm that folds into the face. An engraving of the Olympic rings on the back of the piece suggested it was a souvenir from the 1936 Berlin Olympics."
To continue reading this article, click here.
 ———————————
WorthPoint—Discover Your Hidden Wealth