Weekly Arts, Antiques & Collectibles News Roundup: Jan. 2-6, 2011

by WorthPoint Staff (01/06/12).
An auction of NASA space artifacts command top dollar, news that the new Kardashian dolls will feature some decidedly different proportions than Barbie, and a pair of guns owned by iconic bank robbers Bonnie and Clyde will feature going on the block lead this week's roundup of arts, antiques and collectibles of the year . . .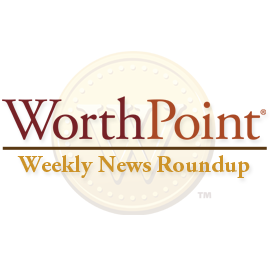 Orlando Sentinel
NASA Space Artifacts Command Top Dollar
More than 40 years ago, it was priceless. The 70-page checklist—hastily updated after an in-space explosion—enabled the three astronauts aboard Apollo 13 to turn their lunar module into a lifeboat and survive what was nearly a deadly disaster. So when officials at Heritage Auctions obtained the three-ring binder from the personal collection of Apollo 13 commander Jim Lovell, they expected it to fetch top dollar—but still were stunned by the final bid of nearly $390,000.
Vancouver Sun
Kim Kardashian's Barbie Doll Will Include Her Big Butt
Kan't get enough of the Kardashians? It's OK, we'll try not to judge. If you happen to be one of the millions of fans keeping up with America's most famous family, you're in luck; they're about to be turned into dolls, thanks to Mattel. The three Kardashian ladies (Kim, Kourtney and Khloe), are about to make Ken feel a bit funny in his plastic molded parts, because they're about to become Barbie's new besties.
PopBlend
Two Guns Owned by Bonnie and Clyde up for Auction
Antique guns in good condition tend to be really valuable, as do collectibles associated with Prohibition Era gangsters. When an item meets both of those criteria, a bidding war typically ensues, which is why the grandchildren of Mark Lairmore may be in line to make a whole lot of money. Their grandfather worked as a police detective in Joplin, Missouri as the American public gleefully cheered on outlaws such as John Dillinger, Baby Face Nelson and the Barker Family.
Auction News Central
Thieves Haul $100,000 Worth of Antiques From Closed Shop
The owner of a closed-up antique shop south of Palmer, Alaska, is offering a $5,000 reward for information that leads to the capture of thieves who emptied out his business. Bill Lowe tells KTUU-TV that thieves took antique bicycles, Alaska native dolls, Fur Rendezvous memorabilia, a mastodon tooth and other items totaling $100,000 from the rustic roadside complex near Mile 37.5 Glenn Highway. The shop had been closed for years. Lowe has been in Minnesota caring for his wife, who died recently of brain cancer.
TrekMovie.com
Remembering the Collectibles of Star Trek Deep Space Nine
On Jan. 3, 1993, "Star Trek: Deep Space Nine" premiered with the two hour television movie "The Emissary." Today, TrekMovie celebrates by remembering some of the variety of collectibles available during the past 19 years, which allowed fans to make Star Trek "deep space mine!" Time travel with us through the decades to see some of the items made based on DS9 and its amazing characters.
Christian Davies Antiques
Pete Doherty Buys Antique Pipes
Notorious rock star Pete Doherty stopped off to buy himself some antique drug paraphernalia whilst on a trip in Paris. The singer stopped by at a fair selling antiques whilst on his recent trip and found a few 1930s pipes, originally used as part of some lab experiments involving drugs. The pipes were up for sale as antiques, perhaps for someone to buy who was interested in 1930s memorabilia, however, Pete was apparently interested in the current working order of the pipes.
News-Antique.com
Antiques & Appraisal School Releases 'Trending' Data
The old saying that "every season has a reason" seems to be spot-on when it comes to people looking to purchase antiques and collectibles. The Asheford Institute of Antiques (AIA), a professional-level, distance learning program on antiques and appraising, recently released the results of an in depth survey it conducted on market trends in the antique business, which it compiled from students and former graduates. The primary focus of the survey was to gauge interest in current trends of antiques and collectibles, based on sales and requests for particular items. And while no measurable scientific practices were employed, and the survey was informal in nature, the results were still quite interesting, said the schools publications Director, Tony Drew.
WNYC News Blog
Niche Market: Obscura Antiques & Oddities
If Tim Burton, Bob Dylan and Edward Gorey had a yard sale it might look something like Obscura Antiques and Oddities in the East Village—where antiquated and dangerous medical devices are perched next to old jars of poison, and taxidermy too frightening to display in the Natural History Museum is crammed in every nook of the shop. "We specialize in scientific antiques, medical antiques, taxidermy. A friend of mine called it, 'Stuff you didn't think you needed until you saw it.' I call it, 'An alternative kind of beauty,'" said Evan Michelson, one of the co-owners of the over 20-year old shop.
Investor Junkie
Are Your Collectibles Really an Investment?
While it's true that some items do increase in value over time, and some collectibles can provide you with a decent enough return as an alternative investment, chances are that those items labeled "collector's" by the company trying to sell them aren't going to be worth much down the road. In fact, even if you keep them in mint condition, they might be worth less than you paid for them.
———————————-
WorthPoint—Discover Your Hidden Wealth