Weekly Arts, Antiques & Collectibles News Roundup: Dec. 26-30, 2011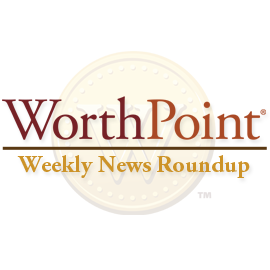 In the final roundup of arts, antiques and collectibles of the year, we learn that Russia is seeking to recover works of art, including paintings and collectibles, through Interpol's online database of stolen cultural property items, that the auction of Michael Jackson's household items tallied more than $1 million in sales, and that artifacts from Occupy Wall Street have already become collectible . . .
Rianovosti
Russia Seeking More than 900 Artworks via Interpol
Russia has added more than 900 works of art including paintings and collectibles to Interpol's online database of stolen cultural property items, Russian Deputy Interior Minister Sergei Bulavin said on Dec. 29. More than 250 works of art, among them paintings by Isaak Levitan and 23 ancient icons have returned back to Russia via the global policing body since 1990. Historical documents signed by Elizabeth of Russia, Catherine the Great, Nicholas I of Russia and other emperors returned back home in 2010, Bulavin added.
San Francisco Luxury News
Michael Jackson's Estate Items Raise Nearly One Million Dollars
The items that belonged inside home where Michael Jackson spent his last moments on earth raised close to one million dollars last weekend when they were auctioned off through Julien's Auctions. Pre-auction estimates from the company were said to be around $200,000 to $400,000, but fans of the late King of Pop paid a pretty penny to get their hands on some of the furniture that was in the home he rented in California up until his death in June of 2009.
Newsday
'Occupy' Artifacts Now Collectibles
Occupy Wall Street may still be working to shake the notion it represents a passing outburst of rage, but some establishment institutions have already decided the movement's artifacts are worthy of historic preservation. More than a half-dozen major museums and organizations from the Smithsonian Institution to the New-York Historical Society have been avidly collecting materials produced by the Occupy movement.
WTSP-TV Sarasota, Fla.
Sarasota Police Recover $400,000 in Stolen Property, Collectible Coins
Sarasota Police make three arrests and recover $400,000 in stolen property. On Dec. 14, a victim reported gold, silver and collectable coins valued at over $400,000 were stolen during a home burglary. Detectives assigned to the burglary notified retailers about the stolen gold and collectable coins. American Coins and Collectibles contacted investigators, saying that on Dec. 15, two customers attempted to sell a suitcase full of very valuable coins. The suspects were going to verify the value of the coins at another shop and then return to make the sale.
WebWire
Seventh Inning Stretch Provides Merchandise for Every Major League Sports Team
Baseball fans searching for an online store to buy memorabilia and collectibles may be interested in checking out the Seventh Inning Stretch website, where fans can find autographed baseballs for sale, Yankees apparel, a Yankees cap, a Red Sox cap and much more. The company provides merchandise representing every major league sports team. In addition to memorabilia and apparel, customers can find baseball cards, toys, glassware and other unique items bearing the logo of their favorite baseball team.
Chicago Magazine
Leslie Hindman on Buying Art and Antiques
What's hot among auction buyers? Mid-century modern furniture is one thing that's hot right now, which can mean that it's overpriced. If people like English and French furniture, they should buy it now because it's relatively cheap. But really, people shouldn't buy something just because it's hot. You need to discover what you really like—paintings, furniture, jewelry, whatever. Invest some time learning about these things and then buy what pleases you. The first rule of collecting: Only buy things you like, because you can never be guaranteed they will be a good investment.
Christian Davies Antiques
Never Mind Cash in the Attic – What About Cash on the Antique Dining Table?
Lancashire residents will be no doubt be furiously checking the contents of their antique cabinets, following the news that an antique plate taken for "Antiques Roadshow" valuation in a supermarket carrier bag was estimated to be worth £100,000. Grandmother Wendy Jones had only taken the piece along to the event as an afterthought, when she learned it was being filmed near her home in Aberglasney, Wales . . . When ARS valuer John Axford saw the 18th-century oval plate, he instantly recognized it as one of a set commissioned by the Prussian East India company between 1750 and 1755, for King Frederick II. He based his valuation on a much smaller bowl from the same service, which recently sold for £31,000.
Nanuet N.Y. Patch
Man Gets 1-3 Years for Stealing Star Wars Action Figures
A Blauvelt man has been sentence to 1 to 3 years in state prison for violating a court-issued order of protection by stealing collectible Star Wars action figures from a home in Orangetown. Kevin Stadnick, 28, of 108 Derfuss Lane, Blauvelt, pleaded guilty on Aug. 24 to first-degree criminal contempt for the theft, which District Attorney Thomas Zugibe said also included taking a telescope along with the action figures on April 13 from the home of a person who was protected by an order issued in Orangetown Town Court.
St. Louis Today
It's A Gas! Event Just Around the Corner
The 20th Annual "It's A Gas!" petroleum collectibles show is less than three weeks away. Vendors from far and wide will be pulling into the Boone County Fairgrounds on Friday, January 13, to set up their booths for this indoor swap meet of all things related to the gasoline and service station businesses from early twentieth century to modern times. The popular show is attended by vendors and buyers from across the nation and is one of the largest shows of its type and the closest one to the St. Louis area. What are you likely to find at It's A Gas!? Well, anything from vintage matchbooks to huge metal and neon advertising signs.
Reuters
Wine Sales Robust in 2011, May Drop More in 2012
It was a good year for fine wine in 2011 with auction houses reporting solid sales but the bubble has burst in the Bordeaux market and prices are expected to fall further in 2012. Wine sales at auction house Acker Merrall & Condit topped $110 million this year. Christie's estimated its sales would be more than $90 million, while Sotheby's wine auctions hit $85.5 million and Bonhams finished at $17 million.
The Hindu
Survivors of Time – The Gavel's Knock
Murray and Co., where different eras juxtapose, it is hard to imagine order. The sun seeps in through stained glass to illuminate old microwaves, sewing machines, computer keyboards and dismantled swings. Every Sunday, over the last eight decades, at least 250 ageing articles resting in this auction house find new homes. From the 1920s until the 1970s, Murray and Co. was a household name in Madras with many legendary auctions to their credit. They were the ones who sold HM Hospital to Express Estates and the property on Greams Road to Apollo Hospitals. From 1964 onwards, they have also been the official auctioneers for the Ministry of Defence.
TriValley (Ariz.) Central
Arizona Man Buys 1941 Fruitcake in Online Auction for $525
A 1941 fruitcake has sold for $525 to an Arizona man in an online auction to help the needy in southwest Ohio. An Ohio company that handles estate sales and online auctions sold the cake Dec. 22. Elite Estate Group owner Larry Chaney said the buyer did not want his name released.
Philadelphia Enquirer
Antiques Dealer who Weathered Changes
Morris Finkel, 88, of East Mount Airy, an antiques dealer who rose to national prominence during six decades of business on Philadelphia's Antiques Row, died Thursday, Dec. 22, from complications of pneumonia at the Visiting Nurses Association hospice in East Falls. Since 1947, Mr. Finkel had been a constant presence in his corner store at 10th and Pine Streets. He worked with private clients, major museums, and historical societies and helped form important collections.
Pottstown (Pa.) Mercury
Five Tips for Sharing Your Family's Antique Holiday Heirlooms
The holiday season is a time for parties, family get-togethers and open houses. With family and friends gathered to enjoy the season, it is a perfect time to highlight your own history by featuring vintage photos and antique objects from days gone by. Here are five tips for making this holiday season a time to reminisce about your family via your heirlooms.
———————————
WorthPoint—Discover Your Hidden Wealth