My Recent Buy
The "My Recent Buy" column will be a regular feature in the WorthPoint Insider newsletter.  What did you buy recently?  Share the object and your story with our readers.  Send the story of your buy along with two to four images to insider@worthpoint.com.   Your story might appear in a future issue.
 I love things that bring a smile to my face, a practice with potential for danger if dating or accompanied by a partner or spouse.  The antiques and collectibles field is loaded with smile generating objects.  When encountered, they are hard to resist.
During my career, I had a hidden love affair with Schafer and Vater bisque porcelain novelty figures.  I did not collect them because the prices were higher than I was willing to pay.
In 1890, Gustave Schaefer and Guenther Vater established the Schaefer & Vater Porcelain Factory, located in Thuringa, Germany.  Sears Roebuck began importing Schafer & Vater dinner and household wares around 1910.  Although household ceramics were its chief products, Shafer & Vater is best known among collectors for its comical and figural items.  [For more detail, see the History of Schaefer & Vater.]
Since Shafer & Vater novelty figures date prior to World War II, political correctness was not an issue.  Black memorabilia collectors enjoy finding watermelon kids and other Black-themed pieces.  My favorites figures are the human form combination match holder and ashtray.  The head held stick matches meant to simulate hair.  I shudder every time I see one at a cocktail party with head filled with toothpicks holding small pieces of cheese, fruit, or meat.
I encountered "A Happy Lot" in an antiques and collectibles mall in Winter Haven, Florida.  He was one of the few antiques in the place.  Most of the merchandise was post-1945.  When I first saw him, I smiled but walked away.  He was priced at $65.00.   The price was fair.  I remembered a time when "A Happy Lot" in fine condition would have brought double that amount.
            [Aside #1:  Remembering when is not always a plus.  If one's memory dates back to the 1990s prices, one sees far too many bargains in today's marketplace.  They key is not remembering what something was worth way back when, but what is a fair price now.]
After walking the mall, I wander back to say farewell to "A Happy Lot."  When I arrived at the booth, I noticed a 25 percent off sign.  I love bargains almost as much as I love objects.  I did some mental calculations and the end price was near my maximum, the most I am willing to pay for an object.
            [Aside #2:  The only price I care about is the one I am willing to pay.  If an object meets that criteria, I am happy and usually a buyer.]
I took "A Happy Lot" to the checkout counter.  The cashier commented on the smile on my face.  My smile diminished somewhat when I learned I had to pay seven percent sales tax.  The final cost now exceeded my maximum.  Since I already made a commitment to buy, I concluded the sale.
"A Happy Lot" sits on a shelf in Linda's and my Altamonte Springs, Florida condo.  It still evokes a simile every time I pass by it.   It also serves as a reminder to do the mathematics correctly in the future when determining if something is within the price range of what I am willing to pay.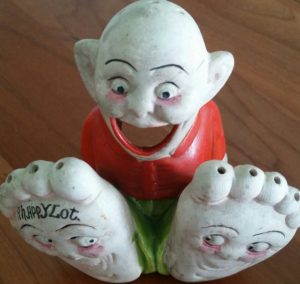 Copyright © Harry L. Rinker, LLC 2017
---
Rinker Enterprises and Harry L. Rinker are on the Internet. Check out Harry's Web site.  You can listen and participate in Harry's antiques-and-collectibles radio call-in show "Whatcha Got?" on Sunday mornings between 8 a.m. and 10 a.m. Eastern Time. It streams live on the Genesis Communications Network.  "Sell, Keep Or Toss? How To Downsize A Home, Settle An Estate, And Appraise Personal Property" (House of Collectibles, an imprint of the Random House Information Group), Harry's latest book, is available at your favorite bookstore and via Harry's Web site.
Harry L. Rinker welcomes questions from readers about collectibles, those mass-produced items from the 20th century. Selected queries will be answered on this site. Harry cannot provide personal answers. Send your questions to: Rinker on Collectibles, 5955 Mill Pond Court SE, Kentwood, MI 49512. You can e-mail your questions to harrylrinker@aol.com. Only e-mails containing a full name and mailing address will be considered. Please indicate that these are questions for WorthPoint.
(Visited 379 times, 1 visits today)