Bent and Beautiful, this Half Groat is Part of Henry VIII's Legacy
The small silver coin was bent where a chisel had cut across the king's image, granular from centuries buried under ground and colored a uniform dull white from a harsh cleaning. In short, it was beautiful.
Priced at $15, the coin came with two histories—its personal one and a deep connection to a pivotal point in western civilization. The half groat of England's Henry VIII was with a group of small English silver coins from the 13th through the 16th centuries. The dealer said they been dug up somewhere in England.
The obverse shows what remains of a realistic portrait of Henry VIII (1509 to 1547) and the mostly readable legend: HENRIC VIII D GR AGL Z FR—"Henry VIII by the grace of God (ruler of) England and France." The portrait marked the coin as coming from Henry's Second Coinage, dating from 1526 to 1544. His First Coinage, issued form1509 to 1526, was issued in the name of Henry VIII, but showed his father's portrait. The reverse shows an English shield quartered by a cross. The legend CIVITAS CANTOR surrounds the shield, showing that the coin had been struck at Canterbury.
What makes the coin stand out, though, are the initials T and C beside the shield. Those initials mean the coin was struck at the city's ecclesiastical mint operated by Archbishop Thomas Cranmer.
Cranmer was consecrated as archbishop in 1533, narrowing the coin's date of production to the 11-year span between Cranmer's elevation and 1544 when Henry issued his debased Third Coinage.
Cranmer, a leader of the English Reformation, is known to history for giving religious cover to Henry's troublesome divorce from Catherine of Aragon and annulling Henry's second marriage, to Anne Boleyn. Four more marriages would follow in the years ahead.
Cranmer helped establish the Church of England with Henry as head rather than the pope. In 1534, Parliament issued the Act of Supremacy, recognizing Henry's legal sovereignty over the church. Disavowing the act was declared treason, clearing the way for later mayhem.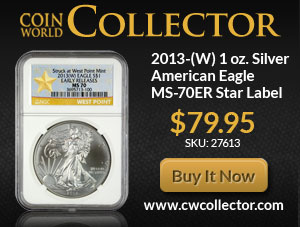 Henry died in 1547 and was succeeded by his son by his third wife, Jane Seymour. Edward VI, just 9 years old when he was crowned, died during the summer of his 15th year and was succeeded, after some intrigue, by his half-sister, Mary, in 1553.
Mary I, daughter of Henry and Catherine of Aragon, restored Catholicism the next year. Her brutal persecution of Protestants caused her opponents to give her the sobriquet "Bloody Mary."
The half groat encapsulates the history of one king, six wives, religious reformation and counter-reformation and the punishment of those believers (both Catholic and Protestant) who were on the wrong side at the wrong time.
Not bad for $15.
---
Gerald Tebben, a longtime numismatist, is editor of the Central States Numismatic Society's Centinel and a contributing writer to Coin World.
WorthPoint—Discover Your Hidden Wealth
(Visited 25 times, 1 visits today)