Mechanical Music, More Politics & Mid-Century Mod Furniture featured in October's Auction Highlights
Welcome back…
Fall is my favorite time of year to attend an auction! The thrill of the hunt is heightened by the crisp weather, good crowds and enthusiastic live bidding. And, when the weather becomes dreadful, I can cruise online auctions from the comfort of my favorite chair. In this edition of Auction Highlights, I share a handful this months' favorites: mechanical musical instruments, vintage political memorabilia, American Indian jewelry, hand-carved decoys, and (for decorators seeking the latest in retro styles) some Mid-Century Modern furniture. Let's jump right in…
Mechanical Music
Before jukeboxes and loudspeakers, public entertainment systems were self-playing mechanical musical instruments: player pianos; music boxes; carousel organs; nickelodeons and others. These instruments—long out of the public eye—have become popular items to collect and restore.
On Oct. 14, Great Gatsby's Auctions will offer an expertly restored fair organ from the collection of Marvin Horowitz, manufactured by Gebruder-Bruder in Waldkirch, Germany in 1928. This instrument was painstakingly restored by craftsman Michael Kitner.
Though post-Victorian, the carving on the case of the instrument is reminiscent of the Victorian era, featuring scrollwork and floral motifs juxtaposed by grotesque masks and gilt flourishes. The organ is painted in colors that would appeal to fair-goers: blues, creams, and pinks. The organs "orchestra" is led by a mechanical conductor, assisted by two robed maidens playing hand bells. Typical of such instruments, the music-producing elements (drums, cymbals, and pipes) are left exposed so that the "inner workings" of the organ may be enjoyed by the public.
The auction will be held at the Great Gatsby's Auction Gallery, 5180 Peachtree Industrial Blvd. Atlanta, Georgia 30341, on Oct. 14, 15 and 16, 2016. Also offered are Chinese porcelains, 19th and early 20th century Continental and American fine art, a Steinway art case grand piano, a Gaveau of Paris grand piano,18th century English furniture, stained glass landing windows, and other items from prominent estates across the U.S. For further information call 770-457-1903 or visit the Great Gatsby's Auction Gallery website.
More politics… if you can stand it
Political campaign buttons have been an American tradition dating back to George Washington. Before bumper stickers and yard signs, voters declared their affiliation by sporting a pin, pendant or button on their clothing.
Just weeks before Americans go to the polls to elect a new president, Roland Auctions of New York will present a once-in-a-lifetime auction of political and campaign buttons from the collection of the late Dr. Alan York of East Hampton, N.Y. Dr. York's collection of American historical artifacts is extensive, and includes items from the Federal period through the modern era. The campaign button auction is the fifth in a series of offerings from the estate of Dr. York.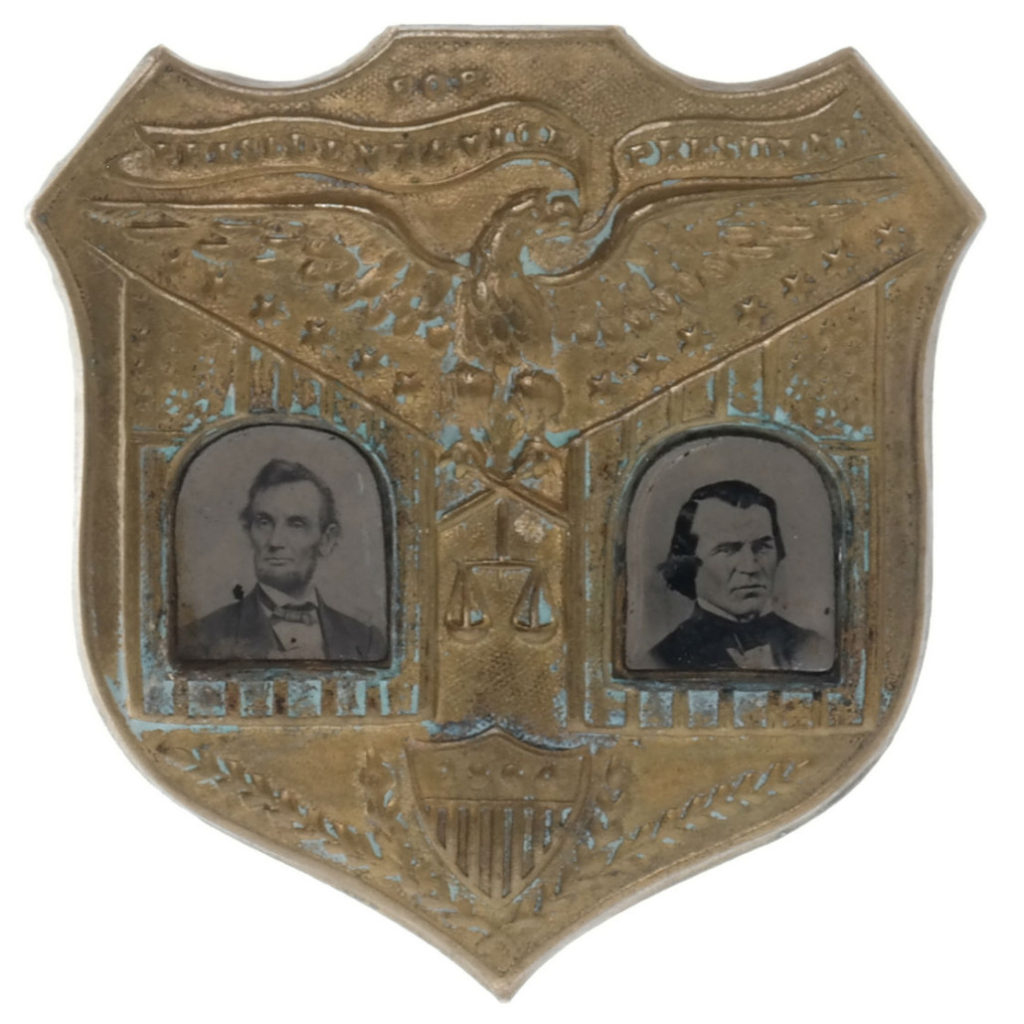 Highlights include a William Henry Harrison brooch, a hand-forged brass coat button commemorating Washington's 1789 inauguration, an Abraham Lincoln brass shield, a lapel badge depicting Confederate President Jefferson Davis, and much more. The auction will be held on Friday, Oct. 14 at 11 a.m. EST at the Roland Auction Gallery, 80 East 11th St., New York, NY 10003. Items may be previewed Tuesday through Thursday, Oct. 11, 12, 13 at 7 p.m. For more information and to view the catalog, go to the Roland Aution Gallery website.
Mid-Mod furniture
There's no doubt about it: Mid-Century Modern furniture is hot. Inspired by sixties-era television shows like Mad Men, decor-conscious Americans love the clean lines and simplicity of post-Second-World-War-era furnishings.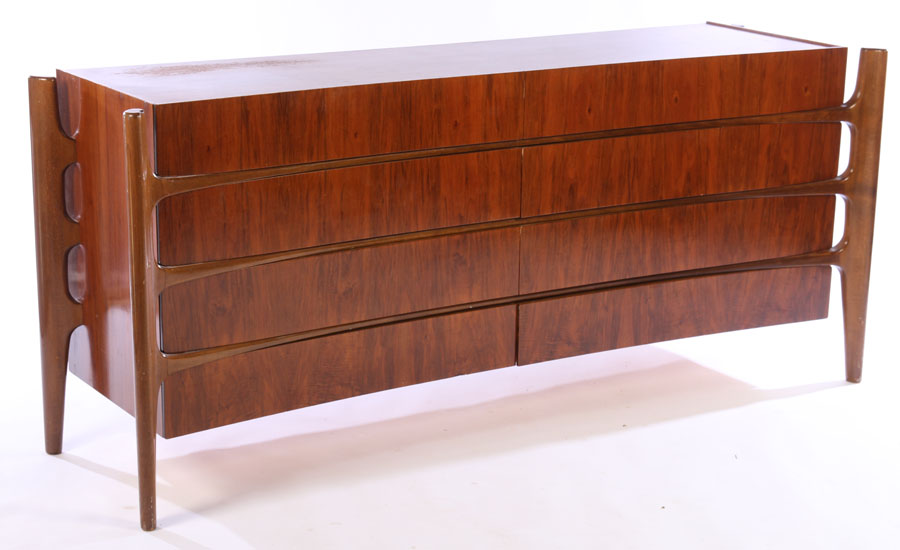 On Oct. 15, Kamelot Auctions of Philadelphia will offer more than 500 lots of furniture, decorative arts, lighting, rugs, mirrors, cabinetry, and other design elements at their Mid-Century Design Auction. Featured items will include offerings from American, Italian, Scandinavian, and French designers.
Bidders may register for online or absentee bidding at LiveAuctioneer.com. The fully illustrated catalog may be viewed at the Kamelot Auctions website . or or on the LiveAuctioneers.com site. For additional information, call the auction house at 215-438-6990.
Decoys
For some Americans, Fall means sitting in a duck blind with a couple of Labrador Retrievers and a bird gun, waiting to have a clear shot at dinner. Early enthusiasts of bird-hunting became adept at hand-carving duck decoys from wood to attract their prey, and soon decoy-carving rose from a necessity to a hobby to an art form.
On Oct. 15 and 16, Frank and Frank Auctions will host their annual Fall Sporting Collectibles auction at the Shark River Yacht Club in Neptune, New Jersey. Approximately 400 lots of decoys, sporting art, signs, lures, and other items will cross the auction block.
The Yacht Club is an ideal setting for such an auction; it is located on the North Channel of Shark River Island and may be accessed by car or by boat. The club features floating docks, banquet facilities, and amenities suitable for overnight docking. The auction room is warmly accommodating.
Frank & Frank are specialists in decoys and sporting art, regularly achieving five-figure sums for their offerings. For auction information and absentee/phone bidding information, contact: Frank & Frank Sporting Collectibles LLC at 732-938-2988 or visit the website.
Native American Jewelry
Native American jewelry is treasured for its beauty and workmanship. Cowan's Auctions, a recognized leader in the field of American Indian Art, will present their American Indian Jewelry Timed Auction beginning Oct. 13 through Oct. 24, 2016. Lots are comprised of a wide range Native American and Southwestern Jewelry including bolos, turquoise bracelets, pendants, Navajo silver, Mexican silver, Zuni carved fetishes and more.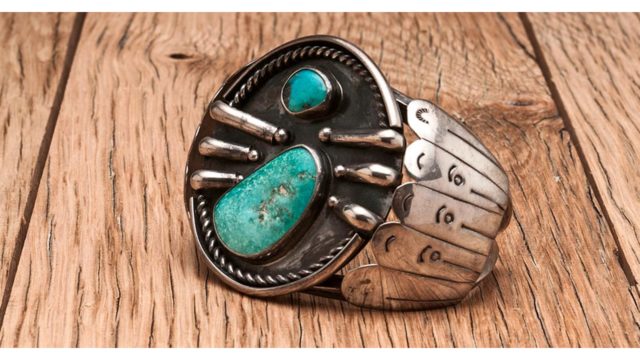 This is Cowan's second auction of the year focusing on North American cultural and ethnographic material. To date, they have sold over $21 million in Native objects.
This auction is online only. For details and registration visit the website. For additional information contact Cowan's Native American specialist Danica Farnand at indianart@cowans.com.
Until next month… bid often and bid high.
---
Wayne Jordan is a Virginia-licensed auctioneer, Certified Personal Property Appraiser and Accredited Business Broker. He has held the professional designations of Certified Estate Specialist; Accredited Auctioneer of Real Estate; Certified Auction Specialist, Residential Real Estate and Accredited Business Broker. He also has held state licenses in Real Estate and Insurance. Wayne is a regular columnist for Antique Trader Magazine, a WorthPoint Worthologist (appraiser) and the author of two books.
WorthPoint—Discover Your Hidden Wealth
(Visited 469 times, 1 visits today)