"The Night Before Christmas," Auctioneer's Style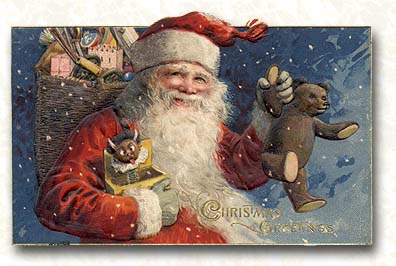 'Twas the night before Christmas, when all through the hall
Not a customer was stirring, they were all at the mall;
The prints were hung on the easels with care,
In hopes that Dealers all would be there;
The Dealers were nestled in that draughty old shed,
While visions of Stickley and Roycroft danced in their heads;
And mamma in her mink, and I dressed by the GAP,
Had just pushed our way in without causing a flap,
When out on the podium there arose such a clatter,
I sprang from my seat to see what was the matter.
Away to the porter I flew with a flash,
The one who always stutters, "we-we-we only take cash."
The lights hung from the ceiling hung dusty and low
hid the dings and the dents on the stuff down below.
When, what to my wondering eyes should appear,
But a miniature toy sleigh, and eight tiny reindeer.
It could be an Ives or Hubley, my memory cracklin.'
Oh my God, it's a real early Maklin!
Now the old auctioneer, so lively and quick,
Was a master of all the Old Auctioneer's tricks,
More rapid than race cars the bidding began,
As he whined, and shouted, and took bids from his fans;
"Now 100, now 120, now 140 and 160.
And 180 and 200 and 220 and 260!
Bids from the ceiling and bids from the wall.
And bids from the phones at the back of the hall.
His eyes how they twinkled! His dentures were scary!
His cheeks were like roses, from drinking cheap sherry!
His nose was all runny and he gave it a blow,
And he said, "who'll give 280" and continued the show;
The handle of the gavel he waved in his hand,
And the bids now came faster and higher than planned;
He had a broad face and a huge beer belly,
That shook when he laughed and scared children silly.
He was quick and cunning, selling the sleigh from the shelf,
And I continued on bidding, in spite of myself;
Then a wink of his eye and a twist of his head,
Let me know I was bidding against the public; 'nuff said;
The gavel came down and the end of the bidding,
And I could hear the commotion from where I was sitting,
The bidder who won took his treasure with care,
Flipping it over to see the name that was stamped there,
Cries of anguish were heard through the hall,
"It's made in Taiwan! I won't pay at all!"
He yelled and he screamed and threatened to sue,
The Auctioneer, nonplussed, knew just what to do,
He pulled off the sign that hung on the wall,
And read the fine print for the good of us all,
"It says right here" in a voice smooth as vinyl,
"When the hammer comes down all sales are final"
I'II see you in court if you want to fight,
"So happy Christmas to all, and to all a good night!"
---
Mike Wilcox, of Wilcox & Hall Appraisers, is a Worthologist who specializes in Art Nouveau and the Arts and Craft movement. He can be reached through his website Antique-Appraise.com website.
WorthPoint—Discover Your Hidden Wealth
(Visited 438 times, 1 visits today)