The Columbus Mint That Never Was
You won't find any 1877-C gold $10 eagles in any collection, but it wasn't for lack of trying. This is a tale about a U.S. Mint facility that never was.
Fifteen years after the C mintmark of the Charlotte Branch Mint fell victim to the Civil War, Northern citizens sought to bring the singular letter back to life, but this time in Ohio.
The state's capital, Columbus, had a vacant building, engaged citizens and a fellow Ohioan in the White House when the proposition was put forth to establish a Mint facility in a state notably deficient in gold, silver and international trade.
The city in the 1870s even renamed a roadway—well, more of an alley than a proper road—Mint Street, as part of its effort to lure a coinage facility.
In January 1876, Ohioan Ulysses S. Grant was president when U.S. Sen. John Sherman from Ohio introduced a resolution "that the president be requested to cause the building and ground situated in Columbus … to be examined for the purpose of ascertaining whether or not said building and grounds are suitable for such mint."
By the end of the month, mint director H.R. Linderman was on an express train from Philadelphia. He arrived a little after midnight on Jan. 26 and was put up at the city's best hotel. At 10 a.m., the city's mint committee turned out to show him the city and the building.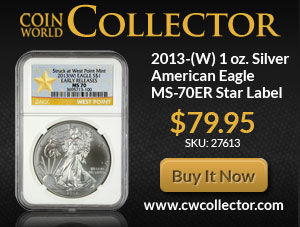 The 156-foot by 60-foot, three-story brick-and-stone structure was built in 1853 for the fledgling Capital University. An assembly arcade and lecture rooms were on the lower floors, while 60 students lived in dorm rooms above. By the 1870s the university wanted a more pastoral setting and moved to farmland. F. Michel bought the "mint" building from the school in 1875 and offered it to the federal government.
"The Ohio State Journal" commented: "Mr. F. Michel has achieved a National reputation by his liberality in offering his valuable and substantial buildings and grounds to the Government, free, for the purpose of a United States Mint. It is as Dr. Linderman says, rather an unusual proceeding for any man to give the government anything, though there is no scarcity of men willing to accept anything the government has to give, from waste paper up to a Cabinet office."
Linderman came, saw and left, never to return. The would-be mint, though, did earn a footnote in coinage history. Three pages of the 1877 annual "Mint Report" are devoted to it.
The building was enlarged, converted to a hotel in 1877 and demolished in 1957.
---
Gerald Tebben, a longtime numismatist, is editor of the Central States Numismatic Society's Centinel and a contributing writer to Coin World.
WorthPoint—Discover Your Hidden Wealth
(Visited 147 times, 1 visits today)