The End of Ringling Bros. and Barnum & Bailey Circus is not the end of the Circus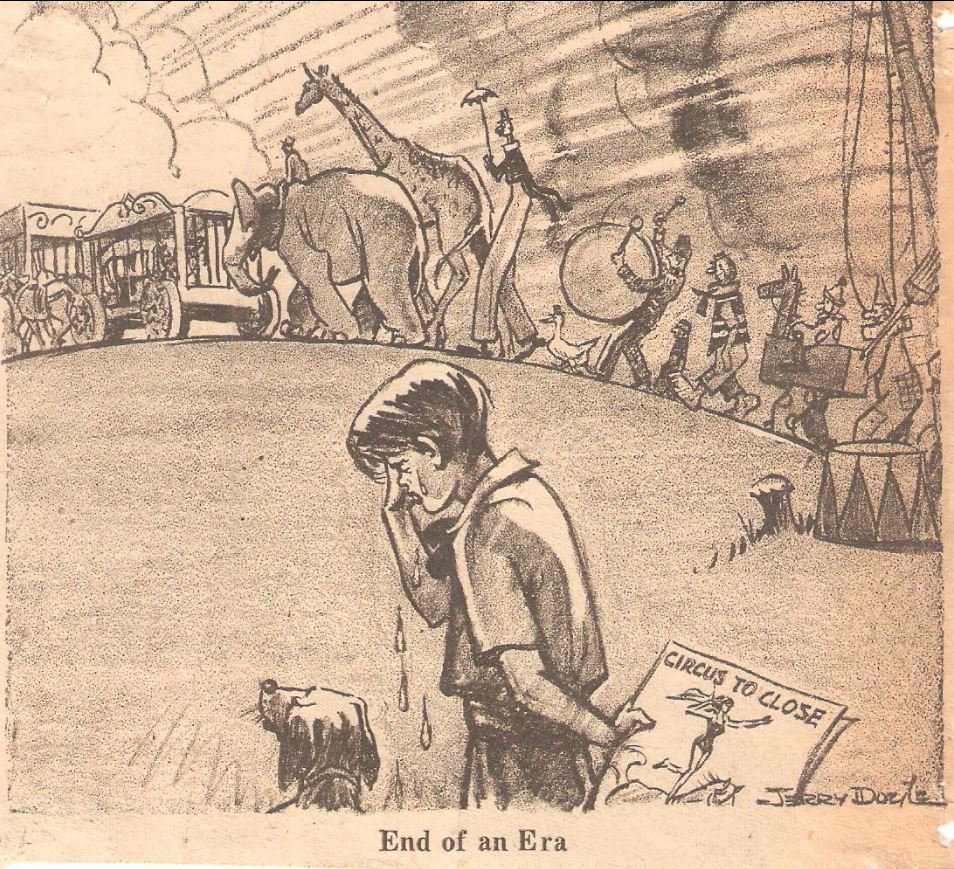 "The . . . circus as it exists today is in my opinion, a thing of the past . . ."
When the owner of Ringling Bros. and Barnum & Bailey Circus was quoted in newspapers across the country, the nation was shocked. An American institution is closing? How could this happen?
The preceding quote isn't taken from the last week's news, but from a statement by John Ringling North nearly 60 years ago, when The Greatest Show on Earth announced it would no longer perform under the Big Top. The editorial cartoon above was one of many that appeared in major newspapers at that time. LIFE magazine, the premier weekly photojournalism newsmagazine, featured a seven-page story on the closing. It was titled "Big Top Bows Out Forever."
But, while Ringling's "Big Top" did bow out forever, the show itself survived. It sustained itself by moving to outdoor venues and to the thousands of arenas springing up around the country.
This last Saturday, a more gloomy statement was issued by Feld Entertainment, the owners of Ringling Bros. and Barnum & Bailey. Kenneth Feld, chairman and CEO of that organization, said ". . . my family and I have made the difficult business decision that Ringling Bros. and Barnum & Bailey will hold its final performances in May of this year (2017). Ringling Bros. ticket sales have been declining, but following the transition of the elephants off the road, we saw an even more dramatic drop. This, coupled with high operating costs, made the circus an unsustainable business for the company." The complete statement can be found on the Feld Entertainment website.
If you're paying attention, you know the world is changing faster than ever. I often say the world has gone crazy. In the 30-plus years that I worked with Ringling, I watched the evolution of many changes including the elimination of the three rings and the retirement of the elephants.
In his statement, Kenneth Feld said there was a "dramatic drop" in ticket sales after the elephants left the show. That would be expected since the circus-going public always rated elephants as their favorite act. Where else could you go see 20 massive performing pachyderms? You can read more about this in an article I wrote for WorthPoint: "Elephants—The Wonder of the Circus."
A couple of years ago, I read a quote from "Circus Queen & Tinker Bell, The Memoir of Tiny Kline," edited by Janet M. Davis. Tiny Kline (1891-1964) had been a performer in burlesque, the circus and at Disneyland. In 1948, she visited Ringling Bros. and Barnum & Bailey after a long absence from the circus. Seeing the 1948 show she remarked, ". . . not having seen the Big Show for a number of years, the change—positively revolutionary—was difficult to accept. The circus had always been the one big event of the year. . . I felt a lump in my throat realizing that it was passing . . . The real Big Show was dead."
Think about it. It was 1948 and she was saying the Big Show was dead.
In 2008 I wrote a WorthPoint article—"Circus Show Names and the Greatest Show Name of All Time." It's worth reading because it gives a concise timeline and history of Ringling Bros. and Barnum & Bailey from its beginning 146 years ago, when P.T. Barnum's Museum, Menagerie and Circus opened in Brooklyn in 1871.
The day after I heard about the closing of The Greatest Show on Earth, I visited the January 2017 Sunshine City Antique Show in St. Petersburg, Fla., where I talked with several dealers who know of my history with the circus. All the conversation centered on the closing of the circus and how much it would affect the value of circus memorabilia. I shook my head and told them, "Nobody knows. Only time will tell."
My gut feeling is that values will not change much. Serious collectors are most interested in very early Ringling Bros. items. Some of the highest priced items are pre-1919, before the two shows were combined. Before that year, Ringling Bros. World's Greatest Shows and Barnum & Bailey Greatest Show on Earth were separate shows. High prices are also brought by posters, programs and other memorabilia from circuses little known to the average collector—shows like Adam Forepaugh, Mighty Haag, M.L. Clark & Son's, Montgomery Queen's, Yankee Robinson, and so on.
While the greatest and largest show is closing, there are still many circuses in operation around the country, including professional youth circuses like Sailor Circus in Sarasota, Fla., and the Peru (Indiana) Amateur Youth Circus. There's Circus Smirkus in Greensboro, Vt., Circus Flora in St. Louis, Mo., and Wenatchee Youth Circus in Wenatchee, Wash. Even Florida State University has the FSU Flying High Circus dating back to 1947.
In the first few months of 2017 a number of circuses are exhibiting near the area where I live in St. Petersburg, Fla. Circus Sarasota performs in February and March. Circus Pages and Garden Bros. will also be touring Florida in these months. And there are many other traveling shows throughout the country. Cirque du Soleil , while not a traditional American circus with animals, is a spectacular theatrical performance with circus acts. There are Cirque du Soleil performances in Las Vegas, New York and Orlando. If you want to see a circus, it shouldn't take long to find one near where you live.
I have been fortunate to have spent over thirty years working with the Greatest Show on Earth, meeting some extraordinary people and making many life-long friends. I've seen some of the best years of this show and will never forget being a part of those memorable days. While I don't believe the circus will completely disappear and become a thing of the past, I can remain hopeful that future generations will experience a circus revival.
---
Larry Kellogg is a WorthPoint Worthologist specializing in circus memorabilia.
WorthPoint—Discover Your Hidden Wealth
(Visited 316 times, 1 visits today)