WorthPoint Interview: Mitchell Kaba & Jennifer Lorenzi on Upcoming Julien's Auctions Sale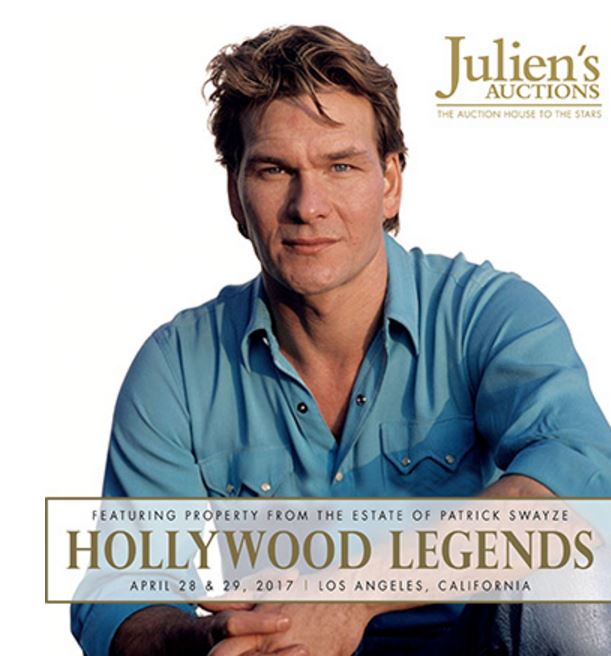 Jennifer Lorenzi and Mitchell Kaba, both of whom are property specialists at Julien's Auctions in Los Angeles, and talked with us a little about their upcoming April 28-29 auction of property from the lives and careers of Patrick Swayze and Doris Roberts.
WorthPoint: So, how does it work? Do celebrities just call you up and say, hey I'd like to sell this guitar I used on tour or this cape I wore in a horror film?
Mitchell Kaba: Sometimes, sure. We receive a lot of collections directly from celebrities and private collectors. We also receive property from celebrity estates. In those cases, the celebrity has passed away and their families reach out to us as a way to share the memorabilia with fans and to commemorate their loved one's legacy.
WP: And then what happens? Do you go to their house and start digging through their items or what?
MK: Well, each case is a little different. We're currently representing the estate of Doris Roberts for instance, and we'll be auctioning her items this May. As you know, Doris was most famous for her role as Marie Barone, the matriarch on the hit sitcom "Everybody Loves Raymond." We were contacted by her son, and Jennifer and I met with him at his mother's home to get an idea of what the family might be interested in parting with. He was very open and friendly and allowed us to peruse the rooms of the house and pick out any items we thought would be desirable for collectors, as well as any items that would best represent who Doris Roberts was, both in her public life and private life.
WP: And what happens to the items that you don't end up taking?
MK: Well, our goal is always to facilitate the needs of our clients, whatever they may be, so we have services to handle any situation. If they want to clear out the house after we've identified auctionable items then we help them with that.
WP: What kinds of things did you chose from the Doris Roberts estate?
MK: She loved collecting art, so we have a number of pieces from her personal art collection, as well as some fine examples of furniture and other decorative items. We have a Picasso ceramic ashtray, for example, estimated at $1,000 to $2,000, and a Marc Chagall lithograph estimated at $800 to $1,200. Her husband was a critically acclaimed author and we have some D.H. Lawrence items connected to his friendship with Lawrence's wife Frieda. Doris had major literary ties as well, being that she started her career on Broadway, so we have scripts by such giants as Neil Simon, Terrence McNally and Tennessee Williams. We also chose a selection of awards, including a plaque of her star from the Hollywood Walk of Fame.
WP: And can you tell us, Jennifer, about any fashion items you found in Doris' collection?
Jennifer Lorenzi: Yes, Doris' character, Marie Barone, was noted for her statement jewelry and for her wildly printed blouses. I curated a selection of these items from her home and later screen-matched many of the blouses and jewelry items that she wore on television and to notable events. We have the black-sequined dress, for instance, that she wore when accepting her first Emmy award for her exceptional performance in an episode of "St. Elsewhere," estimated at $300 to $500.
WP: What other interesting projects have you been working on lately?
MK: Jennifer and I worked together on the estate of Patrick Swayze. That was a lot of fun. Swayze was a very athletic guy, both on and off screen. He excelled in just about every sport he tried. We actually have his high school letterman badges to prove it. The characters he portrayed as an actor were in many ways a reflection of his real-life persona. He was strong and athletic yet caring and sensitive, and it's that combination of traits that made him so appealing to audiences around the world. He was in so many classic films, "The Outsiders," "Red Dawn," "Dirty Dancing," "Road House," "Point Break," and we have props and costumes from most of them. One of the highlights of course is an original surfboard from "Point Break." It has to be one of the most iconic surfboards in film history and it's estimated to sell in the $4,000 to $6,000 range, but, of course, it could go for much more. We also have items of personal use, horse saddles (he owned and trained Arabian horses), cigars, cuff links, guitars, guns and more. We have a Patek Phillipe pocket watch estimated at $8,000 to $10,000. We also have his prized Delorean, estimated at $30,000 to $40,000. The list goes on and on, so many great items.
WP: And Jennifer, you did the Swayze costumes?
JL: Yes. One of the most important pieces we are offering is the leather jacket he wore in "Dirty Dancing." He played a rebel, greaser type in that film, not unlike his character in "The Outsiders" really, or his character in "Tiger Warsaw," in which he actually wore the very same jacket. There probably isn't a more definitive symbol of rebel style than the black leather motorcycle jacket and this is a great example of that. It's estimated to sell for between $4,000 and $6,000. We also have costume items from "North & South," "Donnie Darko," "Ghost," "Road House" and more, as well as items from his personal wardrobe which were worn to events and publicity shoots. One of the interesting things I discovered while working with the collection is that Swayze often wore his own clothes for film roles. The style of many of his characters was based on his own personal fashion sense.
WP: I imagine you get a lot of insight into the personalities of the celebrities you represent.
MK: Absolutely, the job is kind of like an archeological dig. I find it thrilling to piece together the history behind the various items I uncover, and to build a picture about the unique life behind them.
JL: You really get to learn a lot about a person and you develop a connection with them even though you may never have actually met them.
WP: Is there anything you'd like to say to our readers before we wrap up?
MK: Only that we have a lot of interesting projects we're working on for upcoming auctions. We can't divulge which big names we're representing yet, but everyone should stay tuned to our press releases. You can sign up for email alerts at the Julien's website.
---
WorthPoint—Discover Your Hidden Wealth
(Visited 408 times, 1 visits today)