Collecting Vintage Ikea
From time to time, I've disparaged Ikea products as "disposable furniture." Styling and functionality aside, I said, Ikea furniture wasn't built to last and could never achieve "collectible" status. It would never survive more than a couple of household moves before falling apart, I insisted.
This is the part where I eat crow. Britain's DailyMail.com reports that a 1944 Ikea "clam" chair just sold for about $64,000 USD. And that's not a one-off, either; there have been other Ikea furniture products that have brought surprisingly high prices. Searching the U.K. auction aggregator Barnaby's for "Ikea furniture" and sorting by highest price returns the following results: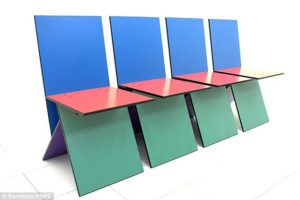 Set of four 1993 Vilbert Chairs by designer Verner Panton for $4,104 USD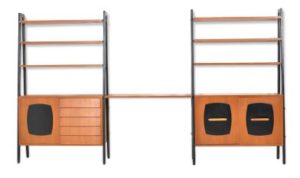 A Mid-Century Modern teak bookshelf unit by designer Gillis Lundgren for $3,900 USD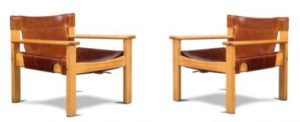 A pair of 1970 pine and leather Natura armchairs "Natura" by Karin Mobring for $1,800 USD
If I'm reading the Barnaby listings correctly, 35 Ikea furniture items are currently for sale, and 2,730 have been sold (time-frame not listed). These are the published results of respectable auction houses, not used-furniture shops or Craigslist. Even eBay shows a vibrant after-market for vintage Ikea furniture. In the past ninety days, there have been 942 completed auctions boasting a sell-through of about 53% (503 sales). The highest recent price achieved on eBay for Ikea wooden furniture was $1,650 for a Gallant corner desk with metal legs and no drawers. The lowest price was $1.25 for a drop-leaf dining table with two chairs (pickup only).
Clearly, not all vintage Ikea furniture sells for "big bucks". But, some of it does. The prevailing opinion of homeowners and used furniture dealers is that Ikea furniture is "junk" and should be sold cheaply. That's exactly the kind of attitude that treasure-hunters hope to find, because that's when bargains can be found. How can you tell if the vintage Ikea piece or the new Mockelby dining set you want to buy might someday become valuable? Why is reputed "junk" furniture selling for so much money? Opinions vary. Here are a few:
Ikea furniture used to be made better than it is today.
We've all heard the phrase "they don't make 'em like they used to." Sure they do. Cheap furniture has always been made. But, most poorly-made furniture didn't survive 200 years as did handcrafted, artisan-built items. With proper care, today's handcrafted furniture can last hundreds of years as well. I'm not sure that Ikea would last that long, but who am I to say? (Lesson learned.)
A Barnaby's representative told The Daily Mail (ibid) "Unlike many of their items today, IKEA's older products were actually made very well and have stood the test of time."  What's Barnaby's standard for "made very well," I wonder? No manufactured wood? The manufactured wood product used in Ikea furniture (MDF, or medium-density-fiberboard) is held in high regard by furniture and piano manufacturers. It's moisture-resistant (on finished surfaces), dimensionally stable, and has good shear and compression strength. It's not as flexible as solid wood, but it's less likely to warp and it doesn't crack. It's great for use in case goods (cabinetry), tables, and any use that requires flat, stable panels. Take the Vilbert chairs, for example (photo at the top): manufactured about 25 years ago, they are made from four MDF boards screwed together. In my opinion, it is assembly problems, not product quality, that dooms most Ikea furniture to an early grave.
Luck of the draw
Some manufactured goods survive for decades even when they weren't meant to. Toys, for example. Plastic cars, metal trains, fabric dolls, etc. have survived because their owners took care of them. It's the same with Ikea furniture. Even K-D (knock-down) home-assembled furniture can last for decades if the owners will keep the fasteners tight (and maybe use a little glue when they put it together).
Scarcity
There's no getting around "the big three" value markers for any collectible: scarcity, demand, and condition. The effect of price on supply and demand is generally understood. Regarding of condition: MDF furniture is nearly impossible to invisibly repair, and if it sits in water for any amount of time, the water will wick up the side panels and bubble the veneer (bottom edges are not usually finished, which makes them vulnerable to moisture). Damaged Ikea furniture should be thrown away.
Great design
This may be the number one reason that some Ikea furniture demands top dollar. Names like Verner Panton, Gillis Lundgren, and Karen Mobring regularly appear in auction catalogs. How can you find out who designed your Ikea furniture? Look on their website. Ikea employs designers from around the world, and designer biographies are provided on the web.  If you can't find the designer for the item you are looking for, drop them an email. If you're serious about collecting Ikea, I recommend the book "Ikea the Book: Designers, Products and Other Stuff" authored by Staffan Bengtsson and published in 2011. 
Could your vintage Ikea furniture be worth "big bucks" right now? Maybe, but it's not likely. However, take care of it, and in a generation or two, who knows?
---
Wayne Jordan is a Virginia-licensed auctioneer, Certified Personal Property Appraiser and Accredited Business Broker. He has held the professional designations of Certified Estate Specialist; Accredited Auctioneer of Real Estate; Certified Auction Specialist, Residential Real Estate and Accredited Business Broker. He also has held state licenses in Real Estate and Insurance. Wayne is a regular columnist for Antique Trader Magazine, a WorthPoint Worthologist (appraiser) and the author of two books. For more info, visit Wayne Jordan Auctions or Resale Retailing with Wayne Jordan.
WorthPoint—Discover Your Hidden Wealth
(Visited 450 times, 1 visits today)