Toys of Christmas Past: Lionel Train Set 1953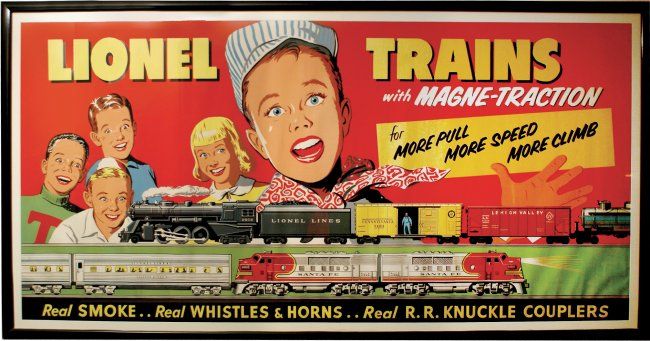 I remember from about the age of five until about age ten wanting one thing in particular for Christmas. It had to be Christmas because my birthday was a week later in January and there was never enough money left over for anything other than socks, gloves or new boots for winter. Every November the Christmas catalog would arrive, chock full of the year's offering of new toys, most of which had already been depicted non-stop on TV from the day after Halloween. I'd have the catalog dog-eared within a week, and I would leave it lying around where my Mom or Dad would see it, open on the page showing my heart's desire: a Lionel Train Set, complete with all the accessories. I could picture myself excitedly opening the package and setting it all up in the basement on a huge table, complete with a town like my own built along the tracks. There were a number of companies making train sets, but for me the first one I laid eyes on in a hobby store was by Lionel, a huge set up that went around the whole store–its big black locomotive pulling about 40 cars through a miniature town and surrounding farmland.  So a Lionel train it had to be.
Lionel had a long history of toy train production, long before myself or even my father had been born. The company goes all the way back to 1900 when the company was founded by Joshua Lionel Cowen. His first train , called the "Electric Express" wasn't a actually a toy, but a brilliant display designed for toy stores to draw in customers from the street. It wasn't until about 1906 that the company began to design what we now see as a modern train set, complete with tracks, a choice of engine types and cars. The addition of the "multi-volt transformer," with its built-in adjustable speed control in 1912, made the trains even more live action and eliminated batteries. 
The company used brilliant marketing techniques. By the 1920's, Lionel purchased advertising in all the national papers and magazines marketed to boys, but even went a step further by pushing a "Father and Son" narrative in adult magazines such as the Saturday Evening Post, with celebrity endorsements and slogans such as "Lionel, The Father and Son Railroad." The company rode this marketing to great success, but after the Great Stock Market Crash of 1929 and the depression that followed, the company found itself closed due to bankruptcy and  the huge number of newly unemployed fathers could no longer afford Lionel's trains and other toys. The company was saved by an unlikely hero, the Mickey Mouse and Minnie Mouse handcar, a simple windup novelty toy they sold for a dollar that ended up under a lot of Christmas trees in 1934. Unknown to me, by the time I became enamored with Lionel trains in the early 1960's, the company was already past its peak, as the age of rail was giving over to the space age and airline travel. In 1967 the original company filled for bankruptcy; its electric train manufacturing was licensed to breakfast-cereal conglomerate General Mills in 1969. 
As much as I tried to get my own parents to buy me Lionel train set every Christmas and birthday from about 1960- 1965, I failed, but my attempts did not go unnoticed by my mother. On my 34th birthday, my mother invited me to lunch, and when I got to her place the table was already set. She asked me to grab a seat in the living room, but then she disappeared into the kitchen. Instead of bringing in the cake I'd expected, she came in with a wrapped present and a card. She asked me to read the card first, so I opened the envelope and found these words:  "Happy birthday, Son, we always wanted to get you the train set you wanted all those years ago, but we could not afford to, love Mom." I opened up the present to be greeted by my very own train set, complete with village and water tower. Mom explained she'd searched all over for one, finally coming across this one at a yard sale, looking like it had never been used used and in its original box. It's been 30 years since that day and I still have my train set. I set it up every Christmas as a decoration and a reminder of a mother's love.
---
Mike Wilcox, of Wilcox & Hall Appraisers, is a Worthologist who specializes in Art Nouveau and the Arts and Craft movement. He can be reached through his website Antique-Appraise.com.
WorthPoint—Discover Your Hidden Wealth
(Visited 535 times, 1 visits today)