Culpeper Auction Assoc., Inc.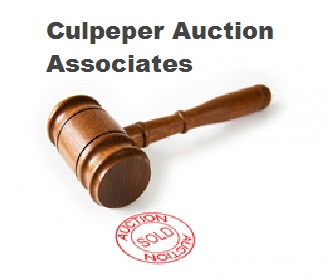 Culpeper Auction Associates
Culpeper Auction Associates, Inc. was founded in May 1989. After conducting many weekly general auctions and monthly antique auctions, we moved to our current location in July 1996. Since that time we have become one of Virginia's fastest growing, progressive auction companies. We specialize in antique, collectible, and estate auctions as well as conduct specialty auctions such as toy/train, doll, militaria, coin, and others. We are a full service auction company and conduct auctions on-site or in our modern, climate controlled facility. Culpeper Auction Associates, Inc. also offers personal property appraisals and we are a member of the Certified Appraisers Guild of America (CAGA). We offer moving service to our facility as well as accept quality consignments at our facility. Our auction company also works with legal firms, trustees, etc. in marketing and selling estates, business liquidations, bankruptcies, etc. References are available upon request. Feel free to contact us at culauction@aol.com or call (540) 825-9045 to see how we can be of assistance to you. Auctions: Americas favorite way to buy and sell!!!!!