Dimmerling Realty Auctioneers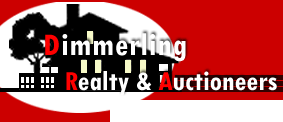 Dimmerling Realty Auctioneers
Wouldn't it be nice to
• Pick the DATE your property is sold. • Know you have a number of qualified buyers. • Know you didn't have to worry about would-be buyers trooping through your house for months. • Know the terms of the sale before the buyer. • Know your deal WILL close. • Split the commission that is traditionally the seller's responsibility. • Know you WON'T have to pay points. • Have a check WITHIN 45 days of the auction. • Have the CHOICE of moving or not moving, household goods.
Our Company Philosophy
Dimmerling Realty & Auctioneers continually strives to be a trusted, innovative and enterprising organization whose growth will be accomplished through the highest degree of customer and employee satisfaction.
Why Sell with Dimmerling Realty & Auctioneers?
• Dimmerling is recognized in the community for honesty and integrity. • Dimmerling has obtained one of the highest closing rates in the industry. • Dimmerling works hand-in-hand with other Real Estate Professionals. • Dimmerling provides complete Real Estate services: Appraisals, private treaty, chattel and real estate auctions. • Dimmerling ensures the peace of mind of sellers and buyers since 1978.
DIMMERLING REALTY & AUCTIONEERS
1736 Cleveland Ave. NW Canton, OH 44703 Office Phone 330-452-4640 Fax 330-452-4727 Email soldbydimmerling@sbcglobal.net